In this day and age, vintage is still a trending style. That's why vintage home repairs are so popular. DVH – Group has been operating in the field of home repair for many years. Always direct customers to choices to create a noble and luxurious living space. Most homeowners choose the classic home remodeling style….
Details content
In this day and age, vintage is still a trending style. That's why vintage home repairs are so popular. DVH – Group has been operating in the field of home repair for many years. Always direct customers to choices to create a noble and luxurious living space.
Most homeowners choose the classic home remodeling style. Because in this style, the house seems to have been "breathed", with the breath of art. Penetrate each pattern and detail of the house.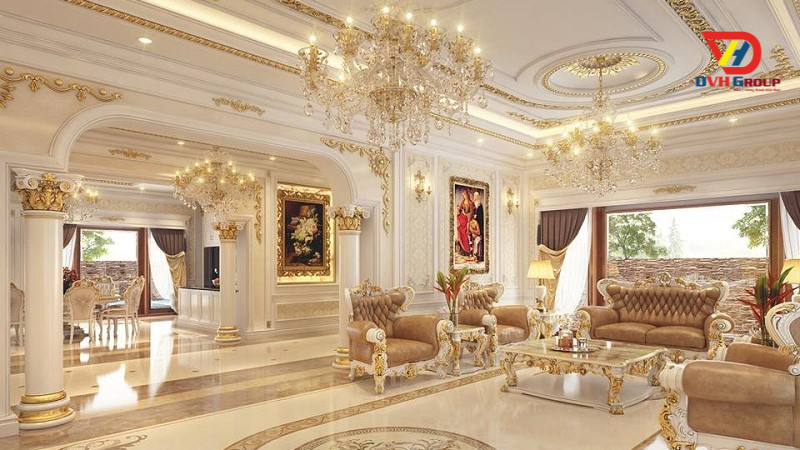 Highlights in minimalist style
DVH – Our team understands that classical style is not just an architectural trend. Besides, it also covers the field of arts such as music, fine arts, painting, etc. But in architecture, the classical style is more clearly expressed than ever. Form a unique, different, and highly practical style.
With DVH – Group's full home repair service, you will find serenity in space, a harmonious combination of comfort and aesthetics. Although space is not on par with palaces. But we will bring this neoclassical style with gentle artistic details, full of sophistication. Therefore, customers will not need to worry about the structure of the house.
Classic home remodeling is a design style with the main materials being natural wood and plaster. The items always carry ancient, sophisticated, and meticulous lines in every detail, creating a splendor not only outside but also with bold values ​​inside.
Known as a school in the European art scene. The classic style seems to touch the traditional and ancient beauty of the culture. Create a space that is not only luxurious and elegant but also extremely magnificent. Suitable for houses, hotels, cafes, offices
Features of home renovation in classic style
Colour
The perfect combination between the two main colors yellow and white is likened to a cozy and romantic feeling, mixed with purity and innocence, giving homeowners an extremely comfortable and pleasant space. . Create a feeling of openness, relaxation, not constrained, secretive.
Besides, depending on the different intensity, you can combine contrasting tones such as black-white, brown-white… to create accents for the house. At the same time, to increase the nostalgia, the interior should choose yellow, red, moss green with thin, soft pattern lines.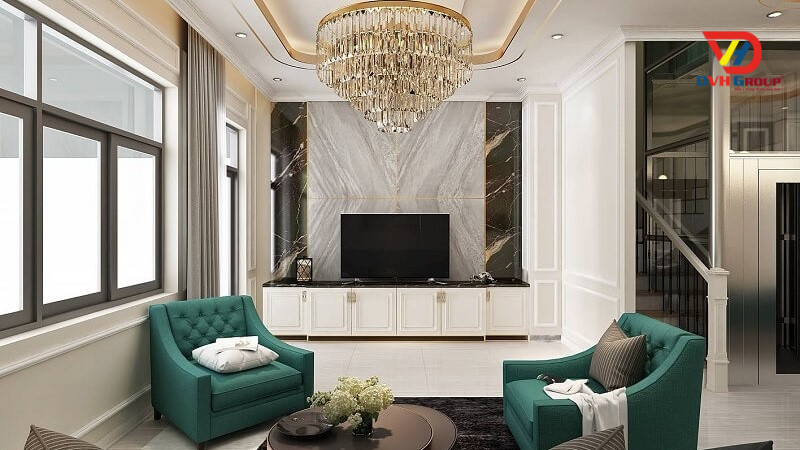 Material
Referring to the classic style, it is impossible not to mention wooden materials. A material that can be said to be typical for this style. Wood is often used to make tables and chairs, shelves, cabinets … or placed in small corners in the house.
Crystal is also an indispensable material, so you are looking for a classic space but still boldly luxurious and brilliant. This material is used to make chandeliers, wine glasses, vases, decorations…
Granite is used for kitchen countertops, sinks, floors, walls … to add splendor, eye-catching shiny surface to your space. To add to the full beauty of the house, the ceiling and walls are also decorated with materials from plaster. Thereby exalting the delicate and meticulous lines in space.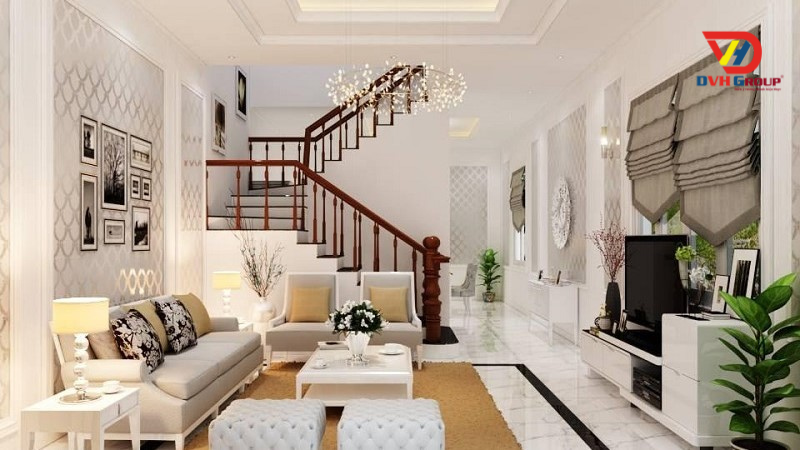 In addition, to increase the nobility and wealth for the homeowner, gold and copper will be the materials used to make some items such as table lamps, candle holders… to bring luxury, magnificent for the house.
Finally, indispensable is the leather material. Often used to cover sofas, chairs, beds, etc., both to increase the aesthetic value and easy to clean, to keep the interior like new, keeping its original beauty intact.
Architecture industry
Architectural symmetry is a staple in classic home remodeling. The balance creates a truly classic home inside and out. However, for items and tools that are not too restrictive in terms of symmetry, homeowners also need to make sure they still have the same textures, colors or when looking at the whole, we can immediately see the class. compatibility between them.
Illuminate
To add a cozy, romantic, and luxurious touch to your classic space. Lighting is also considered a good helper to do this. Especially the golden light emanating from the chandelier carries a classic breath. Or natural light is also a good choice for this style.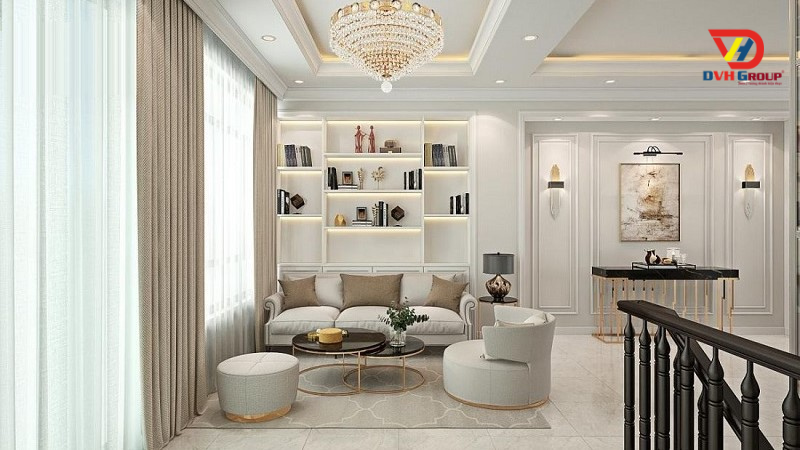 Space ratio
To avoid confusing eyes, or causing uncomfortable cramped feeling when looking at your space. You need to pay attention to the proportions when arranging objects in the house.
In this design, the objects used in common activities are large, not too ostentatious, creating a moderate emphasis. Helps create a harmonious look between objects of different sizes. Not only improving the aesthetics but also enhancing the status of the homeowner.
DVH Group – a support unit to repair classical-style houses
Before carrying out the home repair, individual customers need to pay attention to the scale of the project so that they can prepare well the necessary procedures. Besides, it is necessary to have a complete home renovation plan. And one thing is for sure, everyone will hope to have a more complete new living space.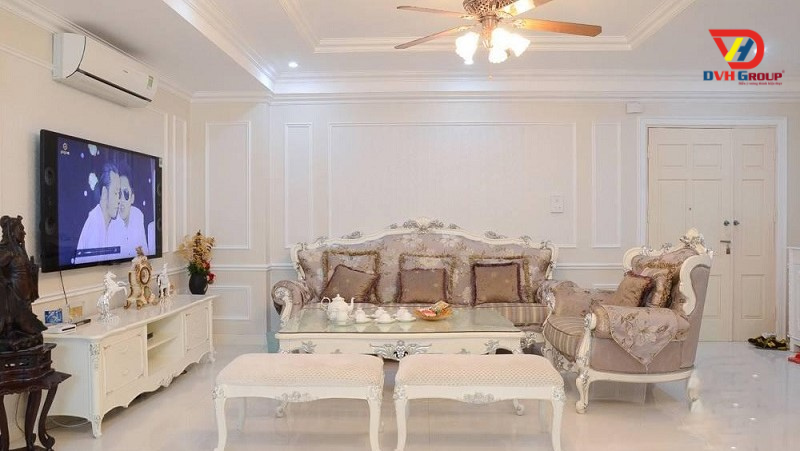 Those things will not be too difficult when you choose a reputable construction unit to accompany you. DVH – Our group always closely supports customers. Specifically, in terms of scale and implementation plan, homeowners need a unit to consult as well as manage to provide bright solutions for the house. Whether a home repair project is successful or not, depends on the idea and the combination of the owner and the architect. The details in our house are guaranteed to be more complete than the support requirements in the service package:
Choose the main color

Repair of lighting systems

Furniture arrangement

Arrange layout in space
With experience and talented, dedicated team. During the operation of DVH – Group has carried out repair work for customers, including villas, high-class apartments, townhouses, … with antique style. Come to DVH – Group to receive class service and make your home perfect. Reasons for choosing DVH – Our Group:
Explicit costs

Quick fix

Energy savings

Quality assurance

Modern machine

Good price
Home repair is a strong field of DVH – Group. Besides, there are other styles to suit each customer's needs. We are always proud to bring our customers a true value, the house is repaired following the classic style. Simultaneously catching up with art trends around the world. Don't hesitate to invest in your home – because this is where you always return. Contact DVH – Group to receive the most professional home repair service.
Contact Us
DVHGROUP CO., LTD
Address : 22 Nguyen Trung Ngan, Ben Nghe Ward, District 1, Ho Chi Minh City
Mobile : +84 975 969 608
WhatsApp : +84 975 969 608
Email: info@dvhgroupvn.com
Real estate consultant in Vietnam