Are you not satisfied with the paint color for your current house? Do you love the classic style but don't know which paint color to choose? Do not worry! In this very article, DVH – Group will suggest to you TOP 6 colors to repaint houses in extremely sophisticated, luxurious, and elegant style. Please refer…
Details content
Are you not satisfied with the paint color for your current house? Do you love the classic style but don't know which paint color to choose? Do not worry! In this very article,
DVH – Group
will suggest to you TOP 6 colors to repaint houses in extremely sophisticated, luxurious, and elegant style.
Please refer to the suggestions for paint colors below. To have a space that brings in a new and impressive impression!
Top 6 classic house paint colors
Blue
Referring to the favorite color of most people, blue (also known as blue). This is a color that cannot be missed on that list. That blue color will make people feel comfortable and extremely comfortable.
Why is that color so popular with most people? Perhaps it is because there is trust and hope for an energetic vitality.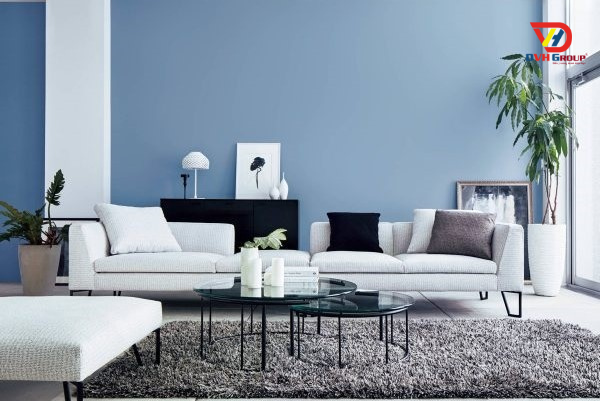 Why is that blue called blue or sky blue? Because those are familiar things around our lives, the colors of the sea and the sky. When choosing this blue color to paint the house in a classic style, it will make the house fresh and much brighter.
When combining the blue of the house walls and the colors of the furniture in the house. It makes the house more classic and creates a sense of peace. You can combine blue with the following colors:
Blue + white
Blue + brown wood
Blue + gray
Green
Also called blue, but when you choose green to paint your house. It seems that the house itself is wearing a new shirt.
Do you know? Just like blue, green is also chosen by the majority of interior designers to paint classic-style homes.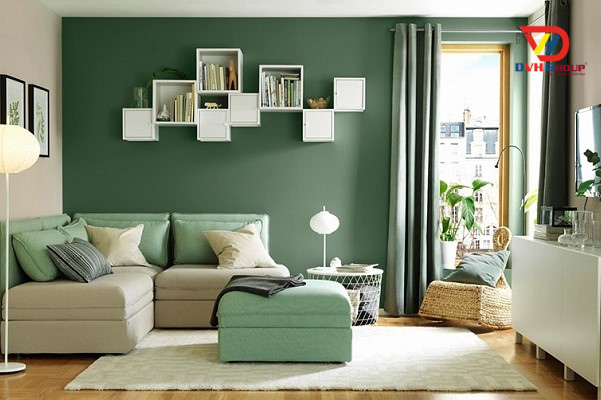 Because of the highlight of the green. When combined with other colors to create accents, it has made it impossible for those who have an aesthetic to ignore this color.
That new shirt has the same color as the trees of nature. Make your home pop. Make your family's living space greener and closer to nature.
Green can be combined with several colors such as:
Green + white
Green + yellow
White
If you love the classic style, it is hard for you to ignore the white tone. DVH – Group has been in the home repair business for many years and noticed that many homeowners also choose white to paint their houses in a classic style. Because it is simply a neutral color and is easy to combine with any color.
White is often chosen to adorn most of the classical architecture and interior spaces. Because when white is combined with curves and patterns on the interior, it creates an extremely sharp feeling, requiring the meticulousness and sophistication of the craftsman.
Although the great advantage is that it is easy to combine with other colors, white also has some disadvantages when careless and improperly combined, easily making the house pale and cold.
Some suggestions for combining white for your reference are as follows:
White + beige
White + neon yellow
White + cobalt blue
White + milk brown
White + brown wood
White + black
Yellow
When it comes to yellow, what comes to mind first? Among the answers, the common point is cheerfulness, dynamism, and is full of life.
Yellow color is chosen in the classic style to create a cozy and familiar atmosphere in the house. Besides, choose yellow as a color to paint the house to create an ancient, luxurious, and aristocratic look for your family's house.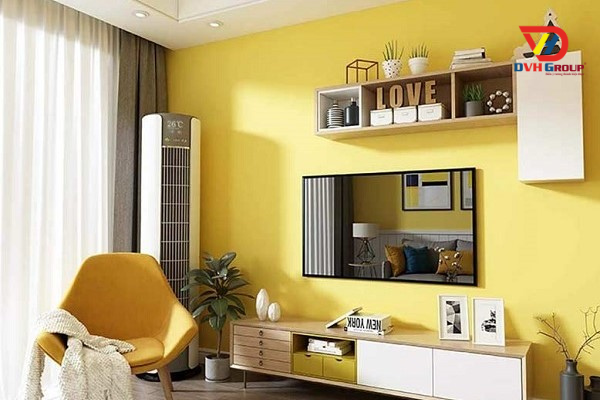 When choosing yellow to paint your house, you should avoid dark yellow and dark yellow tones, instead choose brighter yellow colors such as light yellow, lemon yellow, straw yellow…
Suggestions for your reference in combining yellow with colors are as follows:
light yellow + white
Light yellow + wood brown
Light yellow + beige
Light yellow + milky brown
Light yellow + navy blue
Gray
Why is gray included in the list of suggested colors to repaint a house in a classic style? Do you have any questions? Talking about gray, people often think of strange, forgotten things, crept in hidden corners that few people see.
But do not fret because when the owner has a delicate eye, he will turn that gray color in combination with other colors to create a classic effect for your home space.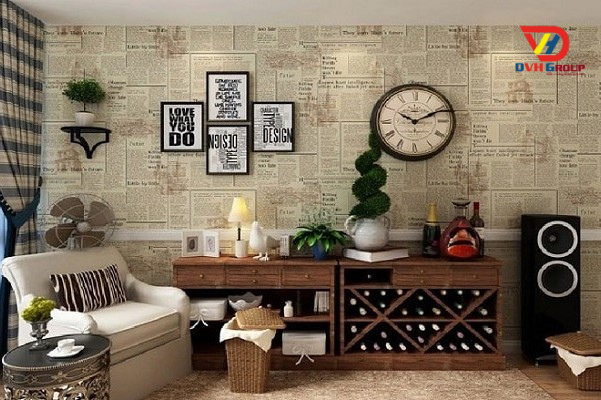 However, the worker needs ingenuity, otherwise, the space of that room will become very dark and gray.
Some combinations of gray when designing a classic interior for you can refer to as:
Gray + white
Gray + beige
Gray + light blue
Gray + black…
Red
Wine red is most often used in the red palette of classic paint colors. This color is not as bright red and not as deep as deep red. When painted wine red, your house will feel more mysterious and luxurious.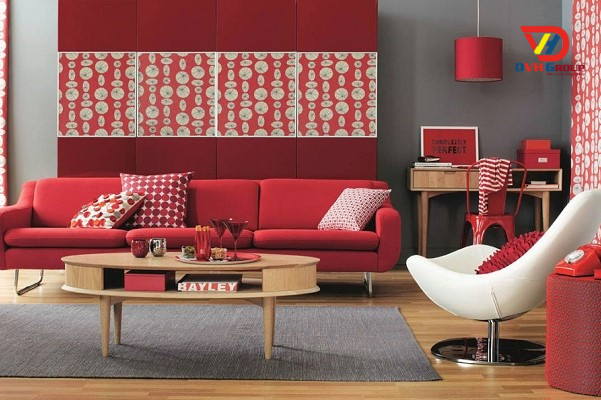 Referring to wine red, do you think of the sharp, powerful, and seductive wine red lips of a beautiful woman. But when choosing wine red, you should combine it with other colors for the house. own, otherwise, it will cause darkness, melancholy, and death.
Some colors for you to combine with wine red such as:
Wine red + copper yellow
Wine red + milk brown
Conclude
So, choosing paint colors in a classic style has never been so easy, right? The above article is 6 suggestions for repainting the house in a classic style, hopefully, the article will be useful to you.
DVH – Group is proud to be a unit in the field of home repair and providing consulting and design solutions. Therefore, we are always proud to bring our customers the best value and satisfaction. Do not hesitate to invest in your home – where we are warmed by the smiles of our loved ones.
Contact DHV – Group immediately to receive the most prestigious home repair service according to the information below:
DVHGROUP 
Address: 196/1/19-21 Cong Hoa, Ward 12, Tan Binh District, HCMC
Office: 22 Nguyen Trung Ngan, Ben Nghe Ward, District 1, HCMC
Email: info@dvhgroupvn.com
Hotline: +84 28 668 06166
Or leave information for a quick and free consultation!
Contact Us
DVHGROUP CO., LTD
Address : 22 Nguyen Trung Ngan, Ben Nghe Ward, District 1, Ho Chi Minh City
Mobile : +84 975 969 608
WhatsApp : +84 975 969 608
Email: info@dvhgroupvn.com
Real estate consultant in Vietnam