REPAIR LIGHT SYSTEM MINIMALIST STYLE
Minimalism style is a very popular style in an era where life is too chaotic with many chaotic things like today. Minimalist style presents a unique artistic style. When it minimizes its most essential requirements. But it still carries a special feature for users. Minimalist style in home repair and design. Based on the principle…
Details content
Minimalism style is a very popular style in an era where life is too chaotic with many chaotic things like today. Minimalist style presents a unique artistic style. When it minimizes its most essential requirements. But it still carries a special feature for users.
Minimalist style in home repair and design. Based on the principle of minimizing the items in your home. Layout the room with as little furniture and details as possible. The interior selection is more focused on the elements of size, color, and materials based on sharp geometric shapes and asymmetry.

A new trend in minimalist style
After tiring working sessions, the place we want to return the most is the house where the warmth and peaceful feeling makes us feel more comfortable. What if when we get home. Do we have to deal with messy, messy things? That's one of the reasons why the minimalist living trend is popular and widely used.
Get rid of redundant things, affect yourself, and add necessary things. Make us more comfortable. This is also a method to help improve the quality of personal life. Thereby improving efficiency to the community.
Features in minimalist style
Light
Natural light is considered an essential part of minimalist home design. Natural light will contribute to the overall look of a beautiful house, recreating the space of the house most positively and practically, it will highlight every detail in the house.
With designs in a simple style, with limited use of colors and outstanding materials, the light will become especially important. If you choose the wrong light tone, it will highlight that textured background.
Create aesthetic value
To bring visual effects with high aesthetic value to users, it is essential to take advantage of natural light through large door frames, glass walls, or roofs.
The use of curtains that can regulate natural light to suit the needs of customers is extremely necessary. Each type of curtain will have different light blocking capabilities depending on the wishes of the customer. Therefore, depending on the desired level of light blocking of the homeowner, choose the right type of curtain.

Focus on visuals
Due to the limited use of colors in the interior, light is considered an important decorative component to create visual and aesthetic effects in the minimalist style.
To save some houses, the design allows a lot of natural light because it will bring a comfortable and peaceful space mixed with dark spaces, which is an interesting unique feature when applying light elements in the room. Modern minimalism.
Space and color
Neutral colors such as gray, light gray, cream, beige… are typical colors of the minimalist style.
Usually, architects will use no more than three colors: one background color, one main color, and one accent color, with a mixing ratio of 60-30-10 where   60% is the main color, 30% is the background color. and 10% accent color.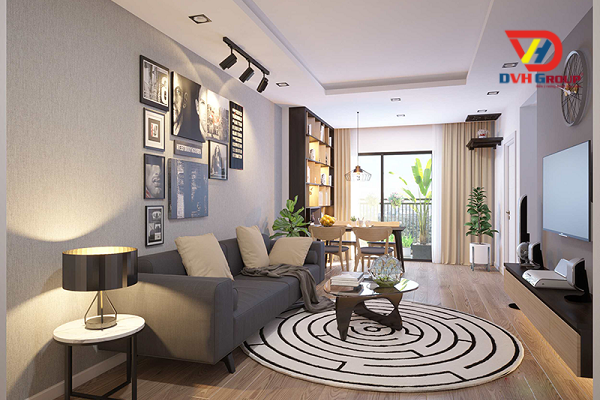 Material
Natural materials such as wood, concrete, bamboo, and emery are often preferred because of their simplicity.
In particular, the materials used should be uniform in color with the overall space. Simple design will help create great sections. Both highlight the architecture and reflect the light in the space where the design is located.
Furniture
Good lighting design will create a positive effect, highlighting all furniture. The purchase of lights is also very important, it will determine the color of the house. Creating a unique texture of the lamp will make a highlight for the house.
Minimalist space always favors simple and convenient interior designs. Paying attention to the balance in the room space is also a factor to choose the right furniture for the design place.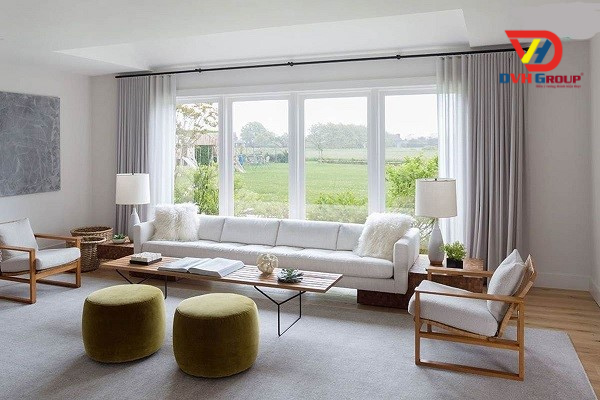 DVH Group and your choice
Along with the non-stop development, now
DVH Group
is constantly developing and putting on high-quality projects. DVH Group always brings good results and is a reliable friend for you.
Contact
DVH GROUP 
Address: 196/1/19-21 Cong Hoa, Ward 12, Tan Binh District, HCMC
Office: 22 Nguyen Trung Ngan, Ben Nghe Ward, District 1, HCMC
Email: info@dvhgroupvn.com
Hotline: +84 28 668 06166
Or leave information for a quick and free consultation!
Contact Us
DVHGROUP CO., LTD
Address : 22 Nguyen Trung Ngan, Ben Nghe Ward, District 1, Ho Chi Minh City
Mobile : +84 975 969 608
WhatsApp : +84 975 969 608
Email: info@dvhgroupvn.com
Real estate consultant in Vietnam