Construction of high-rise buildings – Symbol of development
Existing high-rise buildings have been and are a fairly common construction in urban areas as well as developing cities. Currently, most companies and businesses are investing in high-rise building projects.
Notes when construction building
When deciding to build a high-rise building, of course you need to know whether you should invest in it or not?
How valuable is your high-rise building and its rental capacity, rental price and depending on the location of construction, there will be an appropriate rental price.
In addition, you should try to limit additional problems during construction, which will increase costs quite high. To avoid this, you need to choose a reputable construction company with a clear cost estimate.
Requirements to build high-rise buildings
Ensure the requirements of sustainability, safety, suitability with the needs of the residential community, urban beauty and natural and social conditions.

The size of the apartment must be diverse, convenient to use and manage the supply, in line with the development trend of society.

Ensure conditions of use with utilities and other services such as: telephone, telecommunications, cable TV, air conditioning system, etc.

Ensure social security conditions, prevent fire and explosion, and at the same time ensure the privacy of each apartment.

Ensure sustainable infrastructure and anticipate natural impacts such as hurricanes and earthquakes.

The quality of the outer wall must ensure basic criteria such as safety, water resistance, heat insulation, sound insulation.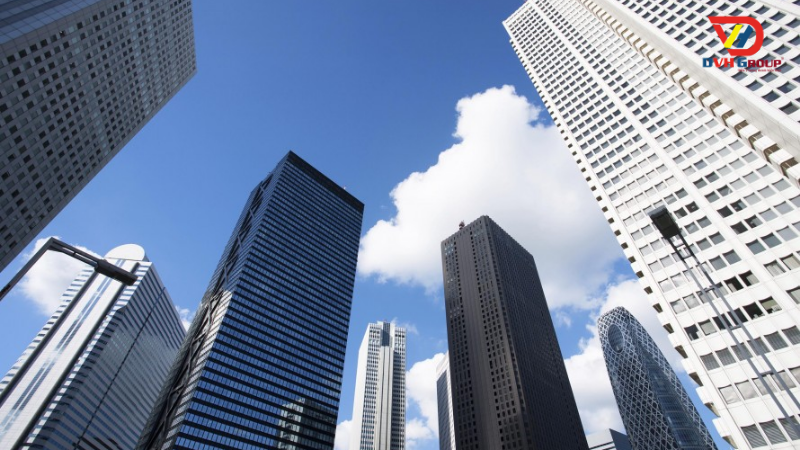 Some standards when construction high-rise buildings
1. Basement parking design
Basement for parking plays an essential role in any high-rise housing project, urban apartment building. Building basement parking must comply with certain standards to ensure the quality of the work and achieve optimal use efficiency.
2. Design of power supply for high-rise buildings
Power supply design must also meet basic high-rise building design standards prescribed by current legislation. The building must ensure adequate power supply for each apartment, and at the same time, the power quality must meet the minimum usage requirements.
3. Design of emergency ladders
Any standard residential or commercial building, office, high-rise building has its own exit. This is a mandatory requirement, one of the remarkable high-rise building design standards of high-rise buildings.
4. Design of water supply and drainage for high-rise buildings
The water supply and drainage system are used to supply water for domestic 
use and fire fighting in case of necessity.
5. Design standards for high-rise building railings
Facing the accidents of falling railings or unexpected accidents, now investors always focus on installing railings that are tight and safe for people's needs.
6. Lightning protection design for high-rise buildings
Lightning protection system is extremely necessary for any residential building. When designing lightning protection systems for high-rise buildings, certain standards must be met to ensure safety for people and structures. Most lightning protection measures for high-rise buildings are aimed at preventing lightning strikes directly into the building.
7. Design standards for high-rise building elevators
Elevator design standards for high-rise buildings are built to ensure safety and optimize user convenience. Accordingly, when designing elevators in high-rise building projects, it is necessary to note:
High safety installation

Standard of moderate weight.

Project design solutions

Main lobby space, floor hall, multi-purpose room

Functional space for administrative management and technical management

Functional space of apartments in high-rise buildings

Traffic function space

Interior issues about living, hygiene and safety.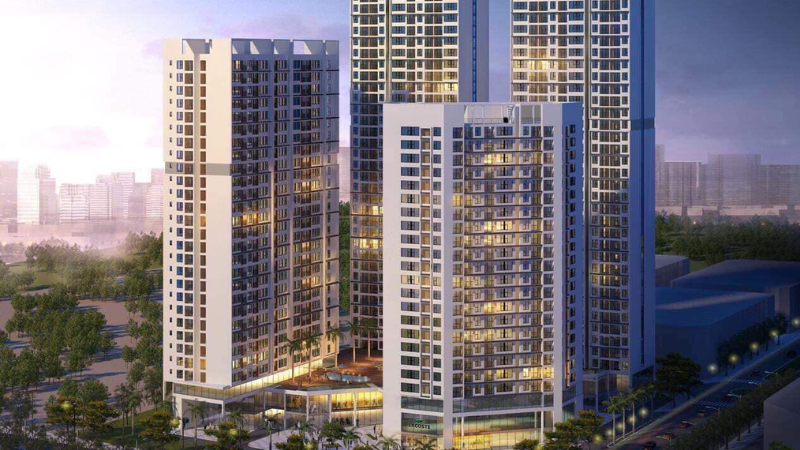 DVH Group – Prestigious building construction unit
Realize the importance and development of residential areas. Currently, DVH Group has been investing in high-rise projects with the goal of serving the needs of the people with a dedicated team. Bringing many benefits to those involved in the investment and responsible for the construction. With the goal of serving social security, it is necessary to ensure outstanding security to make the country develop strongly.
Besides, in the construction sector. DVH Group has diversified activities. With a large scale and position in the market, the promotion of customer support services is inevitable. Activities take place all over the provinces from south to south. Customer value always comes first, this is the premise that most companies and businesses are trying to implement. Let us create value and success for you.