Designing villas – stylish townhouses for a comfortable life
Currently, housing not only meets the needs of rain and sun protection as before but now houses also meet the aesthetic needs of people. That's why many families now learn about villa design. So what style is the design of villas – townhouses worthy of class? How to choose the right furniture? Please follow the following article to understand more
Villas – townhouses are being sought after
Townhouses or townhouses are two very different design styles. Townhouses usually only have a facade area of less than 6m2, while townhouses are 6m or more. Moreover, townhouses are often built in neighborhoods with large areas, single villas, and two facades. Most suitable for corner house models.
In today's civil architecture design, the exterior design for a beautiful house is very important for any family. And that will be the clearest evidence for the image of style, aesthetic eye, as well as class of the house owner and thereby also contribute to improving the beauty of the architectural face of the street. ward in that area.
There are many types of townhouse villas such as one-story villas, two-story villas, two-story villas, one-story villas, three-story villas, etc. Depending on the owner's preferences and financial ability, you can choose the type of property. suitable townhouses.
Interior design styles of villa – townhouses
Modern style interior design
The interior design of a modern villa is completely different from the architectural error of a classic villa interior design. If the classic style is towards sophistication, splendor, and meticulousness in detail, the interior design of a modern villa is towards a space with bold style and personality from interior design. Living room, bedroom design, kitchen, children's room, … are all arranged in a scientific and careful calculation to create a modern villa interior space, personality in each line.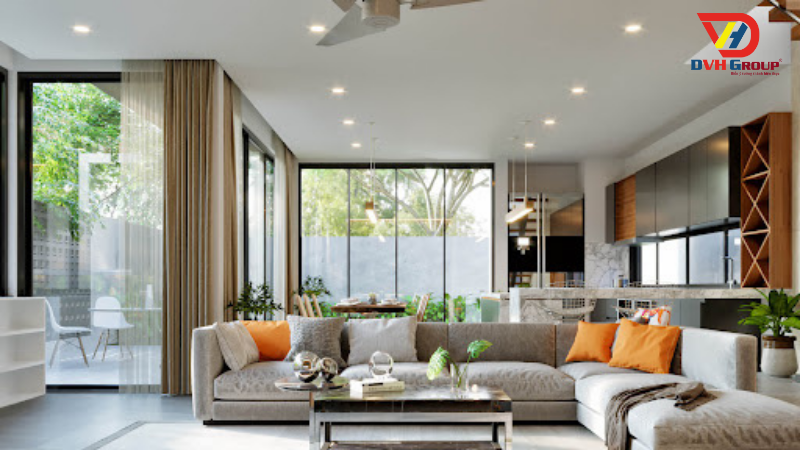 Modern style villa interior
Interior design neoclassical style
The neoclassical style of villa design is favored by many people thanks to the beauty of the mixture of classical and modern styles. Beauty is mixed with a golden ratio to help bring a luxurious and noble space. The motifs on the neoclassical villa are delicately carved but not as dense as the traditional classical style. Instead, the motifs will be gently carved, bringing a healthy, modern, and elegant beauty.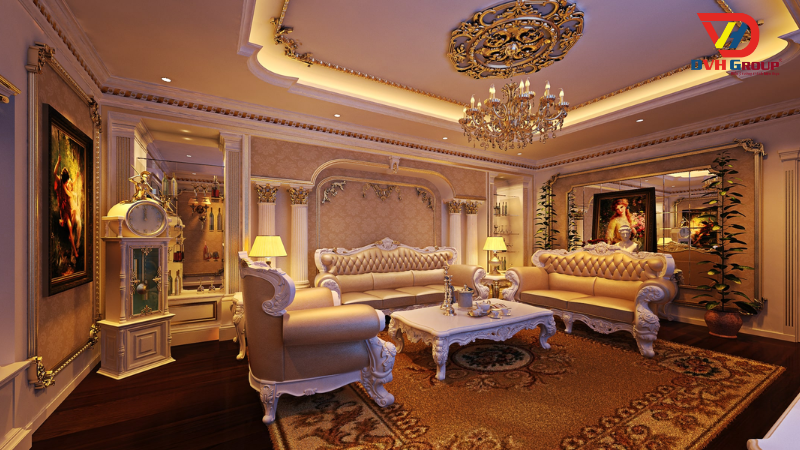 Neoclassical style villa interior
Interior design unit of villa and townhouses
Today, there are many units specializing in interior design construction. However, not every company that works for is reputable and responsible. Therefore, DVHDecor was born as the best solution for you with professional, classy, trendy, and affordable designs. With a team of dedicated professional consultants, enthusiastic service, understanding customer needs, DVHDecor is the smart choice for you.
DVHDecor – The leading architectural and interior design and construction unit in Vietnam. With many years of experience in the industry along with a team of dedicated, dedicated, professional staff who are constantly innovating, creating and updating trends, we are proud to bring customers the right choices. In line with needs, saving money while ensuring the project is aesthetically pleasing, luxurious and classy. With the projects that we have done, you can completely trust and put your trust in DVHDecor.
When choosing DVHDecor we are committed to giving our customers the best experience, the best options that suit their needs. Besides, we also help you to balance your finances reasonably, following your development situation and future orientation. We promise that when you put your full trust in DVHDecor, you will receive values beyond your expectations and feel extremely satisfied with the service we provide. Let us be your partner and make your dreams come true.