The interior design of beauty salon, spa – Luxury, Nobility
To own a beautiful spa business model that attracts many customers, besides bringing refreshment to customers when they come to experience health and beauty care services, design a harmonious spa space. Good visual satisfaction is also an extremely important factor indispensable to help retain customers for a long time. Follow the article below to get a better understanding of spa interior design, beauty salons, and popular beauty salon design styles. Besides, looking for a reputable, quality, and cheap spa design unit.
Why need spa interior design?
The spa is a place to take care of health and beauty, so besides beauty services, the spatial factor has a great influence on the emotions of customers. An ideal beauty salon model always needs to be carefully invested right from the start. To fully realize the idea, spa design drawings need to be meticulously and delicately focused. It can be said that inappropriate spa design is the cause of customers leaving your spa.
Therefore, beauty salon design plays an important role not only in providing an enjoyable experience space for customers but also in making a great contribution to building a successful professional brand image. In addition, the process of interior design and space arrangement also helps investors save costs effectively.
The most popular spa design styles today
Spa design with natural style
Beauty salon design with a style close to nature has never been outdated, with green energy giving people a feeling of comfort, lightness, and comfort. Customers coming to the spa will feel and feel like they are one with the fresh surrounding plants. With spas in the city, you can completely choose to design artificial landscapes with decorative trees, lakes, flowers, … creating a wonderfully relaxing space for customers.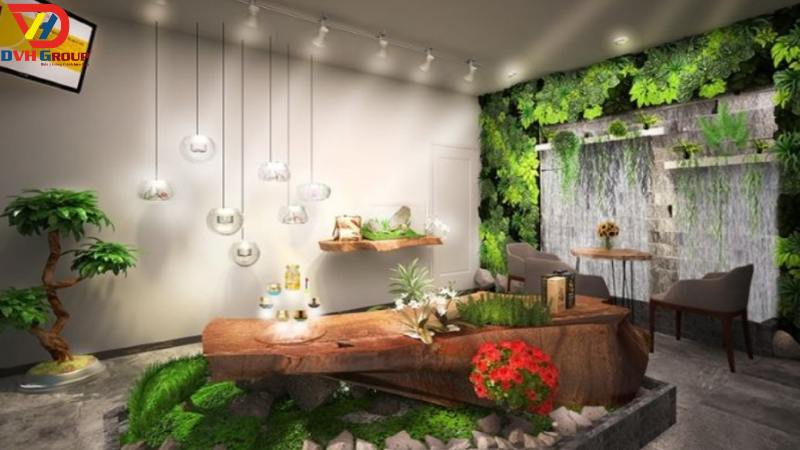 Natural style
Minimalist and modern spa design
In a chaotic life, just a simple and gentle relaxing space is enough to make people feel happy. Modern beauty salon design often minimizes sophisticated decorations, towards neatness, cleanliness, and sophistication by using furniture with angular lines and fresh colors. When choosing a minimalist beauty salon design, you can combine it with a few unique shaped items, some contemporary art paintings, etc. to add a youthful beauty that attracts everyone.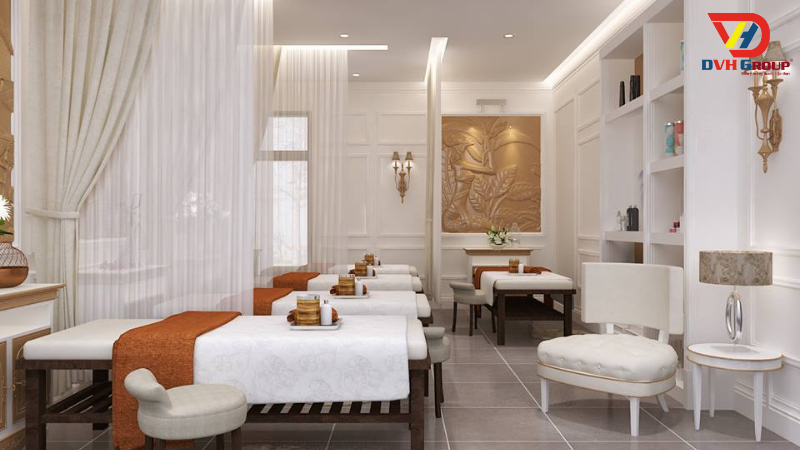 Minimal style
Spa design art style
A beauty salon space with artistic style from the reception area, the reception desk, the beauty area, … with decorative wall paintings, interior patterns suitable for the type of beauty salon is aiming at, All are harmoniously combined to create a unique and distinctive feature for your spa brand.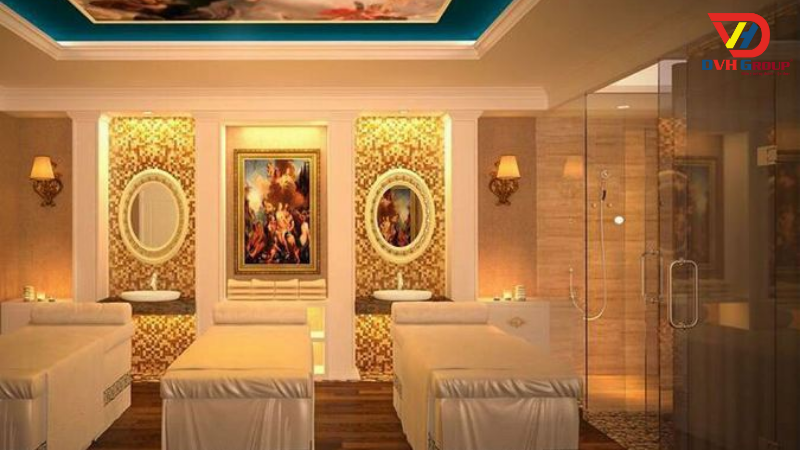 Art style
DVHDecor – A unit specializing in Spa interior design
Today, there are many units specializing in interior design construction. However, not every company that works for is reputable and responsible. Therefore, DVHDecor was born as the best solution for you with professional, classy, trendy and affordable designs. With a team of dedicated professional consultants, enthusiastic service, understanding customer needs, DVHDecor is the smart choice for you.
DVHDecor Furniture has many years of experience in the field of design. Building a beautiful and modern beauty salon, ensuring that it meets the standards of the International beauty salon association. With a team of experienced architects, designers, and a professional full package spa design team. DVHDecor is committed to making you satisfied with our service quality and interior design and construction products.
When choosing DVHDecor we are committed to giving our customers the best experience, the best options that suit their needs. Besides, we also help you to balance your finances reasonably, following your development situation and future orientation. We promise that when you put your full trust in DVHDecor, you will receive values beyond your expectations and feel extremely satisfied with the service we provide. Let us be your partner and make your dreams come true.