Bring in the nobility, sophistication and elegance. Classic-style home repairs are becoming more and more popular. Especially among the rich. If you love this type of architecture, let's find out more darlings.
This style is characterized by a vertical architectural decoration, that is, there are few decorations on the walls. It consists of columns, pilasters, arches, vaulted ceilings and so on. Some classic homes have even applied decorative elements of the Renaissance style.
This style was not meant for small houses. Look at these luxurious palaces! Mostly used materials are stone and wood panels.etails with
DVH group
.
What is classic style?
Classic home repair is a design style with main materials including natural wood and plaster. The items always carry ancient, sophisticated and meticulous lines in every detail, creating a splendor not only on the outside but also with bold values ​​inside.
Known as a school in the European art scene. The classical style seems to touch the traditional and ancient beauty of the culture. Creating a space that is not only luxurious and elegant but also extremely magnificent. Suitable for houses, hotels, cafes, offices
Features of home repair in a classic style
Colour
The perfect combination between the two main colors yellow and white is likened to a warm and romantic feeling, blended with purity and purity, giving homeowners an extremely comfortable and comfortable space. Create a feeling of openness, relaxation, not constrained, secretive.
Besides, depending on different levels of lightness, you can combine contrasting tones such as black-white, brown-white… to create accents for the house. At the same time, to increase the nostalgia, the interior should choose gold, red, moss green with thin and soft pattern lines.
Material
Referring to the classic style, it is impossible not to mention wood. A material that can be said to be typical of this style. Wood is often used to make tables, chairs, shelves, cabinets … or placed in small corners in the house.
Crystal is also an indispensable material, so you are looking for a classic space but still boldly luxurious and brilliant. This material is used in making chandeliers, wine glasses, vases, decorations…
Marble is used in kitchen countertops, sinks, floors, walls… with the purpose of adding splendor, eye-catching with shiny surface to your space.
To enhance the full beauty of the house, the ceiling and walls are also decorated with materials from plaster. Thereby exalting the delicate and meticulous lines in space.
In addition, to increase the nobility and wealth for the homeowner, gold and copper will be the materials used to make some items such as table lamps, candle holders… to bring luxury. , magnificent for the house.
Finally, indispensable is leather. Often used to cover sofas, chairs, beds … both increase aesthetic value, easy to clean, keep the interior always like new, keep the original beauty intact.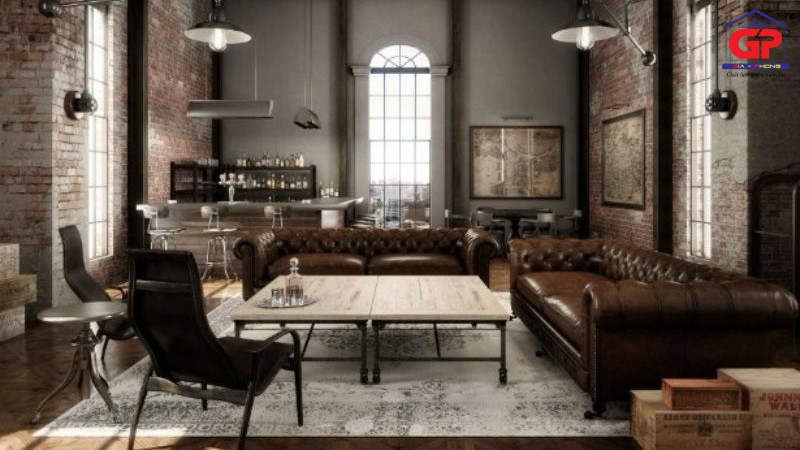 Architecture
Architectural symmetry is a key element in classic home remodeling. The balance creates a house with true classical features both inside and out. However, for items and tools that are not too restrictive in terms of symmetry, the homeowner also needs to make sure they still have the same pattern or color, or when looking at the whole, we can immediately see the level. relevance between them.
Light
To add a cozy, romantic, luxurious touch to your classic space. Light is also considered an effective assistant to do this. Especially the golden light emitted from the chandeliers carries the classic breath. Or natural light is also a good choice for this style.
Space ratio
To avoid confusing eyes, or causing uncomfortable cramped feeling when looking at your space. You need to pay attention to the proportions when arranging objects in the house.
In this design, the objects used in common activities are large in size, not too ostentatious, creating a moderate emphasis. Helps create a harmonious look between objects of different sizes. Not only improving the aesthetics, but also enhancing the status of the homeowner.
Gia Phong classic house repair service
If you are looking for a reputable address that provides all kinds of architectural styles, home and office repair on demand, Gia Phong (GP) is a suggestion that could not be better. Why ? With many years of working and researching spatial architecture. GP confidently affirms to always bring customers the most practical values. Coordinate smoothly with a team of consultants with many years of experience. You will no longer have to worry about which style is right for your apartment. Don't wait any longer, contact us for a free consultation.