Restaurant interior design includes what? DVH Group is professional restaurant interior construction unit
Details content
Restaurant interior design includes what? Professional restaurant interior construction unit
Restaurant interior design space always needs to exude elegance and elegance to impress customers at first sight. A restaurant with an eye-catching, aesthetically pleasing interior design is one of the key factors that show the restaurant's class and professionalism.
What could be more wonderful than relaxing in a restaurant that harmoniously combines delicious dishes and exquisitely designed interior space.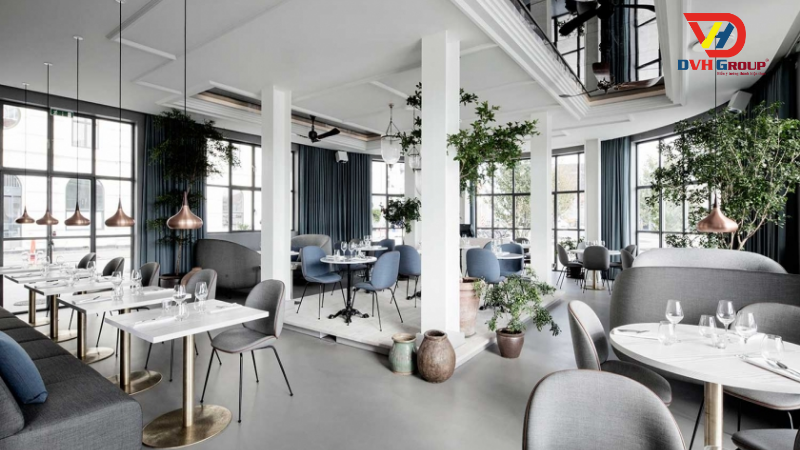 Why do you need to build restaurant furniture?
Interior design is one of the first important factors to pay special attention to when running a restaurant business. Beautiful restaurant design aims to:
– Increase your competitiveness against your competitors. If you do not invest in restaurant furniture, you will lose an advantage to compete with other rival restaurants in the same field.
– Delicious food is not enough, a beautiful space with high aesthetic and attractive, eye-catching is to impress customers at first sight.
– Help the restaurant increase revenue and profit quickly.
– It is a factor in long-term customer retention, increasing brand recognition.
Restaurant interior construction includes what items?
Construction of waiting area for customers
Sometimes there will be a situation where customers come without a table, have not finished arranging the dining table or guests want to wait for their friends to arrive before sitting at the table to eat and order. At that time, do not let customers wait too long, but arrange a separate waiting area – this is one of the secrets to improving customer satisfaction when coming to your restaurant. Usually, restaurants often leave benches for customers to sit while waiting. Some high-class restaurants can design a waiting area with tables and chairs, drinks served.
Construction of the order table
The order table is an indispensable area in any restaurant. This is where customers order food, ask questions and pay.
Construction of restaurant bar (if any)
Some restaurants will combine food service with a bar. If you follow this model, do not forget to arrange a separate bar in an appropriate location.
Dining area for guests
This is the area that customers use most during their time at the restaurant. The dining area needs to be arranged reasonably, both to ensure a wide aisle and to ensure comfortable seating for guests.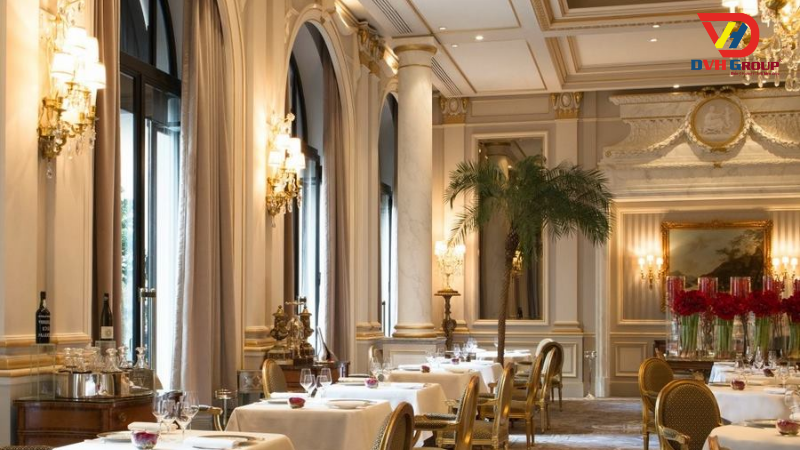 Kitchen area and ancillary works in the restaurant
Depending on the business model, the kitchen will be left in a hidden corner or where customers can see it. The auxiliary works should be located away from the dining area and the food display area. The system of auxiliary works must be fully equipped with a drainage system, regularly cleaned to ensure hygiene.
DVH Group – High-quality restaurant construction unit
Choosing a reputable, quality restaurant design and construction unit is something that every restaurant owner is interested in. Because only a reputable unit knows best what to do to realize all the design ideas of the investor while still ensuring the most reasonable and best quality. DVH Group is the best choice for you. Coming to DVH Group, you will get:
– A team of highly qualified consultants with many years of experience receives requests and gives the most suitable advice.
– Design a restaurant model, a beautiful restaurant with a unique space, not in contact with any other restaurant
– Optimizing design and construction costs while maximizing use
– Top quality assurance with the best quality equipment
– Always satisfy even the most demanding customers.
DVH Group Company is a professional interior design unit, with more than 10 years of operation in the field of interior design, we can design and execute many construction items such as: Interior design and construction apartment furniture, interior design and construction, villa interior design and construction, etc., and increasingly create trust and prestige for customers.
If you and your business are looking for a reputable professional showroom interior design and construction unit, please contact us to receive the best advice.
Contact Us
DVHGROUP CO., LTD
Address : 22 Nguyen Trung Ngan, Ben Nghe Ward, District 1, Ho Chi Minh City
Mobile : +84 975 969 608
WhatsApp : +84 975 969 608
Email: info@dvhgroupvn.com
Real estate consultant in Vietnam