INTERIOR DESIGN OF THE CHINESE RESTAURANT
There is no denying the attraction and uniqueness of Chinese restaurant interior design in the past few years. Not only restaurants but also small food shops use Chinese-style interior design. That has created extremely popular dining spots. In this article, let's DVH Group "dissects" the details that make up the irresistible attraction of Chinese restaurant…
Details content
There is no denying the attraction and uniqueness of Chinese restaurant interior design in the past few years. Not only restaurants but also small food shops use Chinese-style interior design.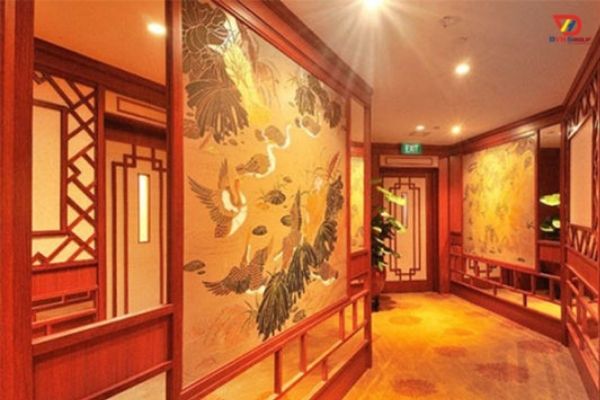 That has created extremely popular dining spots. In this article, let's DVH Group "dissects" the details that make up the irresistible attraction of Chinese restaurant interior design.
Features of Chinese restaurant interior design
With an Asian sound, but Chinese restaurants are more attention than restaurants with Korean interior design. That's because the interior design of a Chinese restaurant is more meaningful and closer to Vietnamese culture. Specifics are represented by the following characteristics.
Materials in Chinese restaurant interior design
Chinese restaurant design, whether modern or traditional, chooses wood materials. It is easy to see such as wooden dining tables and chairs, wooden columns, railings, wooden ceilings,… They bring a rustic yet luxurious look to the space.
In addition, the screens, pictures, decorative items made of wood, and traditional patterns are indispensable details. They create the purest Asian beauty without being too ghostly or offensive.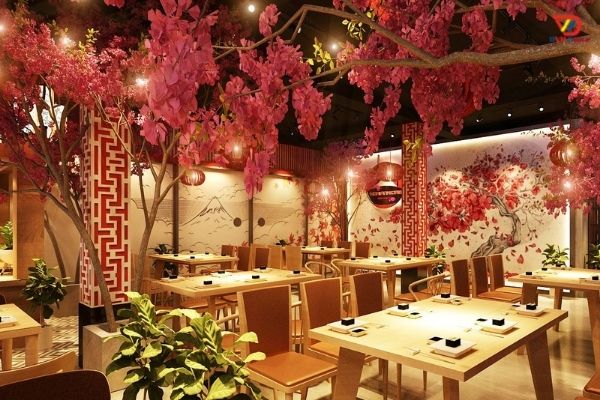 The art of color matching in Chinese restaurant design
In Chinese culture, red is considered a color that brings luck, success, and power. It is easy to see that most events such as holidays, openings, weddings, etc. use red everywhere. Therefore, the color red in most of these restaurants is absolutely indispensable.
In addition, yellow is also very popular and used in many Hong Kong restaurants and Chinese restaurants. Because yellow evokes feelings of royalty. Previously, only kings and heavenly sons had the right to use them. Therefore, it also represents nobility and wealth.
Scientific Chinese restaurant design space
The interior design of a modern Chinese restaurant or a classic, the space needs to be spacious, have a clear division, and ensure science.
In addition, China is considered the cradle of feng shui research. Therefore, all architectures in general and restaurants, in particular, are studied very carefully before construction. This partly ensures the stability of the business, makes life convenient, everything goes smoothly.
Typical Chinese restaurant design style
Traditional Chinese restaurant design style
A Chinese restaurant with a traditional design not only offers delicious food but also lets diners enjoy the uniqueness of the traditional architecture, cultural beauty, and local atmosphere.
The traditional design uses most of the details such as wood, paper mache, calligraphy… to bring a feeling of closeness and a bit of nostalgia. At the same time, bold art makes customers feel impressed.
The typical feature of traditional Chinese restaurants is that only round tables are used. This is a feature of Chinese restaurant interior design. It helps connect diners with each other, creating an intimate and warm setting.of
Modern Chinese restaurant design style
Along with the development trend of the world, Chinese restaurants with modern and luxurious designs officially appeared. This meets the diverse needs of diners. Because not everyone wants to have dinner or hold parties at restaurants with ancient architecture.
The modern Chinese restaurant is very solidly built. There is no shortage of Chinese decorative patterns used. The dining table is converted to a square or rectangular design.
Moreover, there are movable partitions decorated with very typical images… All create a modern restaurant with a distinct Chinese identity.
Although it is a modern design, it still retains a certain traditional characteristic. That creates the permanence of culture, preserving the quintessential soul in Chinese architecture. At the same time, creating a unique look and impression for each restaurant.
With this article, DVH Group hopes to give investors a clear and overview view of Chinese restaurant interior design. At the same time, it helps investors make the right decision in choosing to build a Chinese restaurant. Do not forget to contact DVH Group for advice from A to Z when you start to want to build an impressive restaurant.
Contact Us
DVHGROUP CO., LTD
Address : 22 Nguyen Trung Ngan, Ben Nghe Ward, District 1, Ho Chi Minh City
Mobile : +84 975 969 608
WhatsApp : +84 975 969 608
Email: info@dvhgroupvn.com
Real estate consultant in Vietnam