COUNTRY RESTAURANT INTERIOR DESIGN
Restaurant models with diverse interior design styles are appearing a lot in Vietnam. It can be mentioned as the interior design of Korean, Chinese, European restaurants, etc. However, the typical design for the quintessence of Vietnamese culinary culture is only the interior design of country restaurants. Let's find out the design features and what to…
Details content
Restaurant models with diverse interior design styles are appearing a lot in Vietnam. It can be mentioned as the interior design of Korean, Chinese, European restaurants, etc. However, the typical design for the quintessence of Vietnamese culinary culture is only the interior design of country restaurants. Let's find out the design features and what to note when building a Vietnamese restaurant.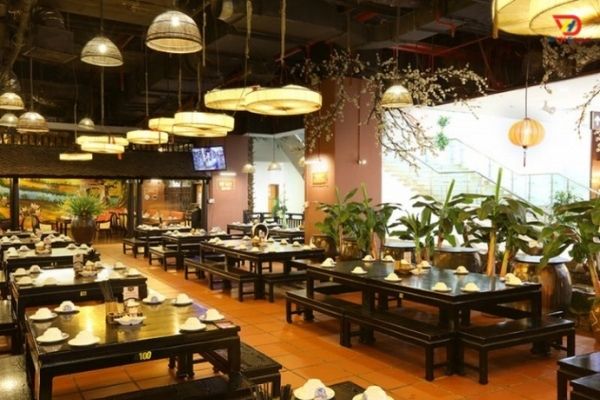 Features in country restaurant interior design
Country restaurant interior design style is often used in restaurants specializing in Vietnamese dishes. Not only helping diners enjoy unique Vietnamese dishes, but the restaurant with country design also creates a sense of familiarity and relaxation.
Natural materials are used mainly
The interior design of a country restaurant is certainly indispensable for natural materials. Using wood, bamboo, and other decorative objects such as dong leaves and bamboo trees make an important contribution to creating a close, friendly atmosphere for diners but also friendly to the environment.
For many restaurants that choose to design with an outdoor space, there will be more items made of stone. Both classic and typical for Vietnam. Increasing the aesthetics but also creating a huge attraction for many investors.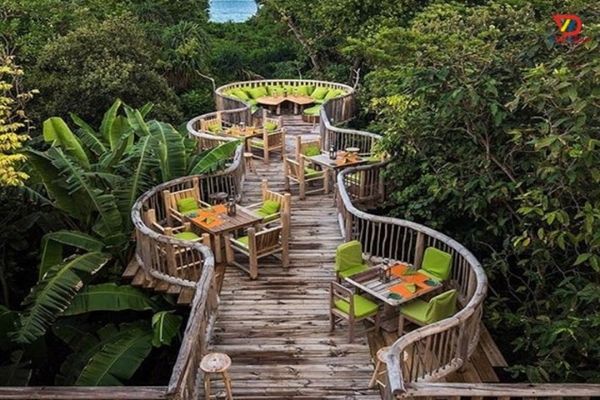 Using typical colors in-country design
Talking about the typical colors in the interior design of the country restaurant, it is about the fiery red of bricks and tiles. The smooth green of the trees, the deep yellow of the old walls, and the warm brown of the wood.
All create a unique feature for the country's style. Moreover, with the ingenious color scheme of the architects, these colors become more harmonious and impressive than ever. Ancient but very close, familiar, never out of date.
Should avoid using striking and modern colors such as lemon yellow, pink, purple… because it will create an oddity in the entire space. Therefore, careful calculation before decoration is extremely necessary. Helps to avoid color conflicts and lack of subtlety.
Overall bold folk breath
Use bamboo clusters to create accents and increase sophistication when combined with luxurious deep brown colors from wooden furniture. Create a quiet and cozy atmosphere when accompanied by light from lanterns and decorative pendant lights. All will make an unforgettable impression on diners.
In addition, it is impossible not to use door designs, partitions made from embroidered lotus flower motifs. Comes with red brick for the entire space.
It can be seen that a restaurant with a country design will have to pay the most attention to the space and emotional factors brought to diners. Therefore, to avoid unfortunate minus points, design units should pay attention to the following points.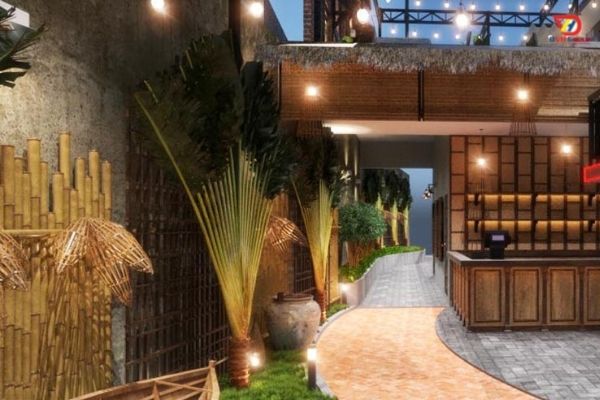 Notes when designing the interior of a country restaurant
Firstly, it is necessary to accurately reproduce the image of the Vietnamese countryside. This limits me to the multi-coordination disorder that loses the cultural identity prominence. Worse, it can bring a "half-season" and messy feeling to customers.
Second, it is necessary to create uniformity in interior and exterior arrangements. Avoid creating contradictions that occur in the design.
Make the most of natural light because the natural space will make the most harmony possible. When using night lighting, the yellow light should be used to create warmth for the restaurant. Attention should be paid to the light intensity to create a gentle yet stable light.
Finally, choose the most suitable form of decoration. Use indoor or outdoor space, Northern Country style with bamboo bushes, or towards the bold Southern plain design with thatched-roof huts. It will all depend on the location of the restaurant and the cost of your restaurant design and construction.
With the information in this article, hopefully, you will have a more detailed look at country restaurant interior design. More specifically, when you intend to build a restaurant that embodies this Vietnamese culture, please contact DVH Group immediately for a free consultation and a quick construction quote.
Contact Us
DVHGROUP CO., LTD
Address : 22 Nguyen Trung Ngan, Ben Nghe Ward, District 1, Ho Chi Minh City
Mobile : +84 975 969 608
WhatsApp : +84 975 969 608
Email: info@dvhgroupvn.com
Real estate consultant in Vietnam