For any business, whether the operation is large or small, the number of employees is more or less, the face of the office is always the top concern. Office interior design in recent years is receiving careful investment from many project owners because business owners also realize that office interior design has a great impact…
Details content
For any business, whether the operation is large or small, the number of employees is more or less, the face of the office is always the top concern. Office interior design in recent years is receiving careful investment from many project owners because business owners also realize that office interior design has a great impact on their lives. working spirit of employees as well as leaving beautiful impressions in the hearts of customers.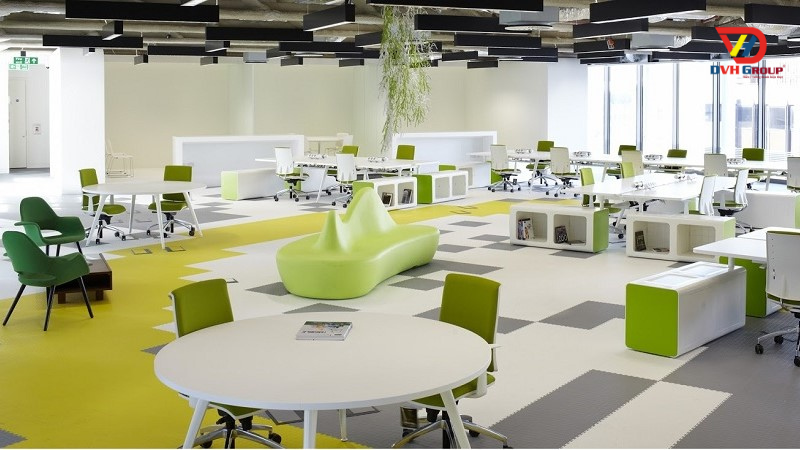 Most office furniture construction, in each item, is based on the advice of the architect in charge of construction, on all materials such as industrial wood, natural wood, still wood; choose leather or felt sofa,… These are the factors that determine the cost, and consider the quotation for the most reasonable office furniture. DVH – Our group has constructed many office projects, throughout many years of experience. Always give ideas and construction methods to customers, following the business style.
Construction styles of office furniture
DVH – Group not only provides services to customers. In addition, the team also supports ideas and styles selection according to current trends. Same style following customer needs.
Modern office furniture

Green office furniture

Open office furniture

Minimalist office furniture

Entertainment office furniture
Why need beautiful office interior design?
Today, business owners often have to put effort and dedication into designing beautiful office furniture to have a comfortable and convenient space where employees can be happy and dedicate themselves to the service. Work.
Office interior design not only affects the aesthetics of the common space but also helps employees have many inspiring amenities at work to bring high productivity. Above all, the office also shows the class of any company/enterprise.
In the interior construction items: including working rooms, meeting rooms. Make sure to bring cool, modern, and elegant elements. At the same time, for the director's private room, the element of comfort, luxury, and class is guaranteed.
Notes when constructing office furniture
DVG – Group is a reputable unit specializing in office furniture construction. With a team of experienced architects, their skills are regularly improved. Besides, the DVH – Group system is professional in combining the use of high-quality materials. Therefore, the furniture samples provided by our unit are not only beautiful but also meet the quality of all criteria.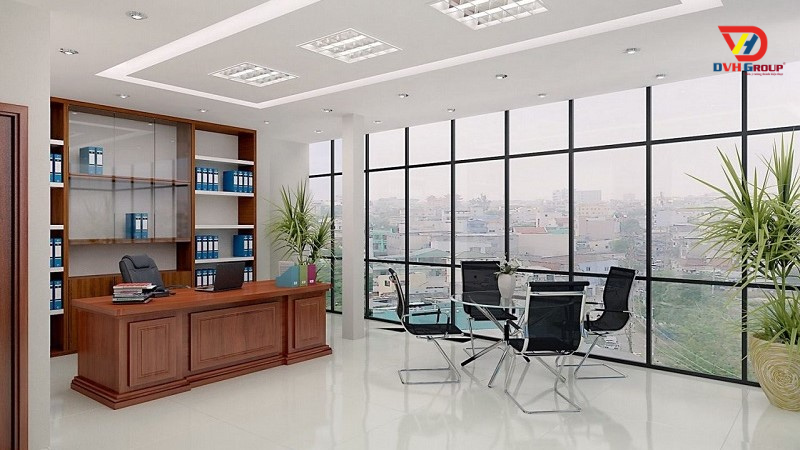 Choosing the right interior material
For an enterprise of large scale and budget, the choice of expensive, high-class desks and chairs and file cabinets to use, affirms the brand's style. . For small businesses, newly established businesses, with a rather limited budget, you should choose engineered wood material designs with integrated utilities to build a reasonable office space, avoid incurring costs greater than the source of expenditure.
Arrange the interior space reasonably
With offices with a small area, we can prioritize the design of open interior styles to limit the invasion of space. Only invest in interior design in necessary items such as employee desks, director's desks, file cabinets; both save space and limit investment costs.
For offices with large areas, we can give preference to designs with separation and division of used space such as staff rooms, director's rooms, meeting rooms, reception rooms…
Focus on space and convenience
An office is designed in an open space, eliminating the rigid separation of walls or partitions, so that there is interference and harmony between small spaces, along with the appearance of green trees. An interesting highlight is the ideal workspace.
Interior lighting
This is a factor to keep in mind when carrying out the construction of office furniture. Light can make the office more radiant, bring new inspiration, and work more efficiently. Take advantage of the natural light through the windows in the room. Because natural light is always better than artificial light.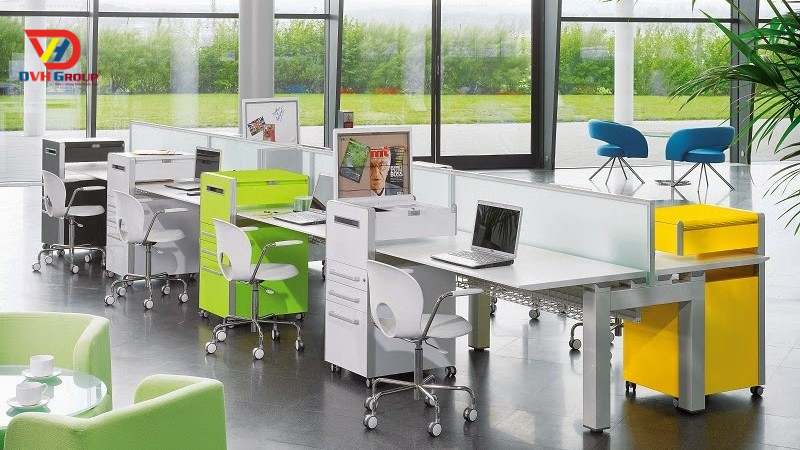 Match the image of the company/business
The core image of the company/business is always mainly used in some offices. Pay attention to colors, feng shui, and symbols,… Each unit has a different field and color. What each architect must do well, is to convey the message through the space of the room, which the unit is aiming for as the brand image.
The nature of the profession determines the style
Office interior design style is a system of unique features that show your business's imprint, impress customers and increase brand awareness for your company.
There are many beautiful and unique office designs on the market that you have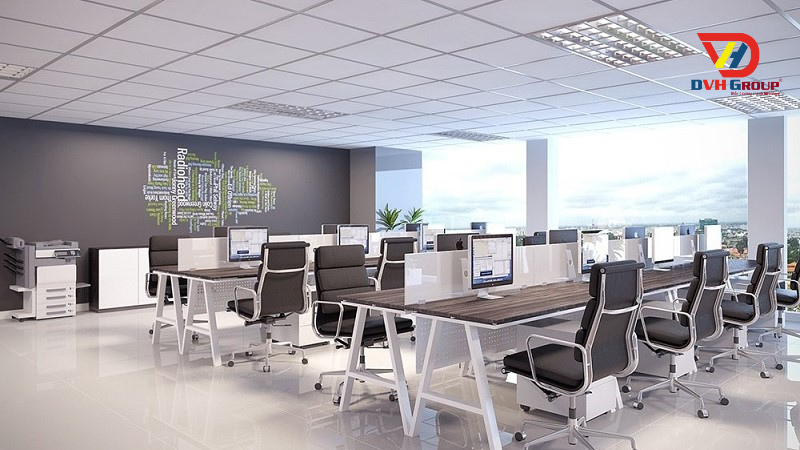 DVH Group – a professional office furniture construction unit
With many years of experience in the field of beautiful office furniture construction, home interior design with a team of experienced architects and engineers. Our unit always executes high-class projects such as luxury villa furniture, high-class townhouse furniture, modern office furniture .., products that are superior in quality, meet the right requirements. customer needs and expectations.​
Coming to DVH – Group, customers can completely trust the aesthetics, construction progress, and professionalism in the working process. Furniture selection of DVH – Group is a perfect choice. We will make the office the most comfortable and productive place to work.
Contact Us
DVHGROUP CO., LTD
Address : 22 Nguyen Trung Ngan, Ben Nghe Ward, District 1, Ho Chi Minh City
Mobile : +84 975 969 608
WhatsApp : +84 975 969 608
Email: info@dvhgroupvn.com
Real estate consultant in Vietnam