Eye Clinic Design – A quality ophthalmology clinic will pay great attention to the interior and space from the small room. All architectures are consistent and up to industry standards. However, in order to be recognized as a standard ophthalmology clinic, strict conditions must be met, the interior design is also paid special attention. So…
Nội dung chi tiết
Eye Clinic Design – A quality ophthalmology clinic will pay great attention to the interior and space from the small room. All architectures are consistent and up to industry standards. However, in order to be recognized as a standard ophthalmology clinic, strict conditions must be met, the interior design is also paid special attention. So how will a standard ophthalmology clinic be designed?
As a construction design unit that has a strong foothold in Vietnam with hundreds of thousands of design projects for hotels, restaurants, clinics, large and small apartments, DVH will bring to customers the best interior designs. The most unique, the most exquisite, the most classy, and the highest quality.
Things to consider when designing the interior of the ophthalmology clinic
Today, due to the working process and the impact on the environment, eye diseases are more and more common and more complicated. To meet the needs of eye examination and treatment, there are quite a few reputable ophthalmology hospitals and clinics for people to choose from when they have a need for examination and treatment of eye diseases and diseases.
Why should we pay attention to the interior design of the ophthalmology clinic?
If for example, you are a patient, then you will surely always have a belief in a spacious, clean, and spacious clinic. Looking at the clinic with a team of professional doctors, full examination, and treatment areas, you will feel more secure in your choice.
As a clinic owner, everyone wants to build a reputable and quality medical treatment facility. When designing a clinic in a methodical and careful way, will create many long-term benefits for you.
At the same time, building a professional working environment for employees. Help them have a comfortable spirit, full of energy when working and treating patients. In addition, a well-designed and built clinic will make a good impression on the patient.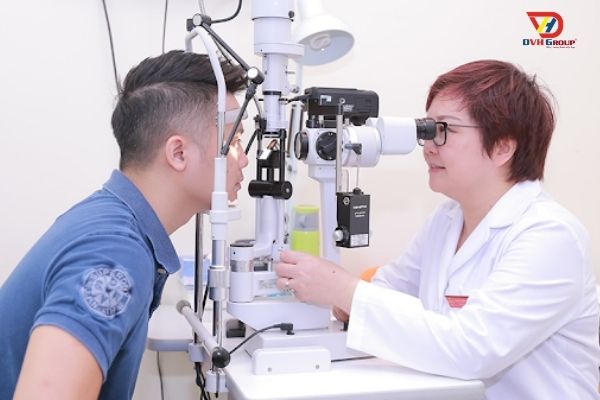 Necessary notes when designing an eye clinic
Lighting for clinic
Use the light with sufficient light intensity, do not use a too-bright light, choose soft light is best. It does not affect the customer's vision and is convenient for the doctor's treatment process.
Design a spacious and airy open space for the clinic
There are many patients who come to medical examination and treatment often with anxiety, apprehension, a little fear. So let's create a spacious open space, create comfort and convenience for customers. If the space is secret, dark, cramped, it will make the patient more anxious, uncomfortable, and hinder the treatment of the disease.
To have a larger space, clinics often use glass panels instead of closed walls. They help to make the customer's vision clear, making the clinic space feel spacious and spacious.
Use paint colors sensibly
To support the feeling of a large space, the use of paint colors also plays a very important part. Usually, bright paint colors will be preferred because they can reflect well, adding more light to the clinic.
Usually avoid using dark colors such as black, gray, brown… These colors will give customers a gloomy feeling, bringing negative psychology. The most common colors are a light background color (white, cream, pastel) or a neutral color (light blue, light yellow…) to create an overall highlight of the space.
Ensure general hygiene
This hygiene issue is something everyone is concerned about when it comes to a medical facility. From the clinic, tools and equipment to the source of clean water must also be provided sufficiently and regularly. In addition, attention should also be paid to the wastewater drainage system, garbage treatment, especially medical waste.
DVH group – The leading interior design construction unit in Vietnam
Because the need for eye health care is an essential need, more and more eye specialist clinics are opening, but in order for the clinic to become professional and attract customers, it is necessary to consider choosing a unit. Professional design and construction, sure.
DVH always cares about customer satisfaction, you give us your trust, we send you back your satisfaction with service quality, as well as professional skills. Come to DVH Group to "turn customer ideas into reality".
Liên Hệ
CÔNG TY TNHH DVHGROUP
Địa Chỉ : 22 Nguyễn Trung Ngạn, Phường Bến Nghé, Quận 1, TP HCM
Mobile : +84 975 969 608
WhatsApp : +84 975 969 608
Email: info@dvhgroupvn.com
Chuyên Viên Tư Vấn