WATER SUPPLY DRAINAGE SYSTEMS AND SANITARY EQUIPMENT
Recently, the issue of the design/construction of water supply and drainage systems, and sanitary equipment is attracting a lot of attention. Because this is an important and necessary issue that directly affects people's lives. Especially large apartments and buildings. Notes when designing and installing water supply and drainage systems Water supply and drainage works and…
Details content
Recently, the issue of the design/construction of water supply and drainage systems, and sanitary equipment is attracting a lot of attention. Because this is an important and necessary issue that directly affects people's lives. Especially large apartments and buildings.
Notes when designing and installing water supply and drainage systems
Water supply and drainage works and sanitary equipment play an extremely important role. Requires carefulness and meticulousness in each stage. Because if there is even the smallest error, it will affect the whole project.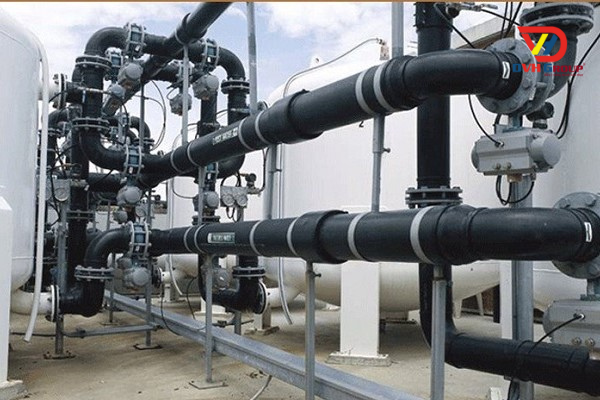 When installing a high-rise building drainage system, we need to pay attention to the following:
Pipe slope
For drainage, that ideal slope is 2%. With this slope, it helps that the wastewater flows slowly enough to carry the solids. Just make sure it's fast enough to scrape off the wall of the pipe.
Note, if the sloping pipe is too large, it will clog the pipe. Because liquids flow too fast and solids do not have time to flow. This is the reason why your drain pipes are often clogged. This is a technical error when installing those unprofessional workers easily make.
Ventilation problem for sanitary ware
When designing and installing sanitary equipment, ventilation is required. The main purpose of this is to prevent back pressure, to ensure that the wastewater is well-drained. The vent pipes must ensure the prescribed slope, especially pay attention not to install horizontally.
For the best quality work, you should choose a professional and experienced construction unit. Because this is a construction used for a long time. If there is a mistake, it will not be possible to do it again.

Arrange appropriate ventilation and floor clearances
In the process of using, there will certainly be times when the drainage system and the protection equipment get clogged. Therefore, when designing and installing, attention should be paid to convenient maintenance and handling if congestion occurs. When installing, it is necessary to arrange the blockages at suitable distances for vertical and horizontal pipes.
Those are important notes when designing and installing water supply and drainage systems – sanitary equipment to achieve the highest efficiency. Because this is an important project and system, it cannot always be brought out for repair. Therefore, we need to be very careful during construction.
To be 100% guaranteed of quality, you should choose quality, reputable and experienced installation unit. At that time, you will be assured of both qualities, warranty, and cost.

DVH Group – System design and construction unit
If you do not know which unit to choose to install the drainage system, sanitary equipment, please refer to
DVH Group
. Guaranteed you won't be disappointed.
DVH Group
is a unit specializing in the design and installation of quality, prestigious and genuine interior – exterior works. Has been chosen by many customers and investors.
The unit has a professional and experienced design team, helping customers design the most effective, safe, and efficient construction drainage system, water supply, and drainage system. We never let our customers down. All projects installed by DVH Group are quality-verified, with a long-term warranty. If there is any problem we will be there to help customers. Therefore, customers can completely trust the product quality of DVH Group.
Especially at DVH Group, the cost of installation and design is extremely affordable and reasonable. We want to bring to our customers the safest and highest quality products. Let us help you to create a modern – convenient – healthy life and environment.
Contact
DVH GROUP 
Address: 196/1/19-21 Cong Hoa, Ward 12, Tan Binh District, HCMC
Office: 22 Nguyen Trung Ngan, Ben Nghe Ward, District 1, HCMC
Email: info@dvhgroupvn.com
Hotline: +84 28 668 06166
Or leave information for a quick and free consultation!
Contact Us
DVHGROUP CO., LTD
Address : 22 Nguyen Trung Ngan, Ben Nghe Ward, District 1, Ho Chi Minh City
Mobile : +84 975 969 608
WhatsApp : +84 975 969 608
Email: info@dvhgroupvn.com
Real estate consultant in Vietnam