RUSTIC STYLE ARCHITECTURE INTERIOR PLACEMENT
The common mentality of everyone is to have a spacious house. At the same time, it also needs to achieve aesthetics and solidity. Such a house would be perfect. Every time coming home after stressful working hours and being worn down under pressure. Today, there are many different home design styles. But the Rustic style…
Details content
The common mentality of everyone is to have a spacious house. At the same time, it also needs to achieve aesthetics and solidity. Such a house would be perfect. Every time coming home after stressful working hours and being worn down under pressure.
Today, there are many different home design styles. But the
Rustic
style is very popular. So let's re-arrange the architecture and interior with
DVH – Group
in Rustic style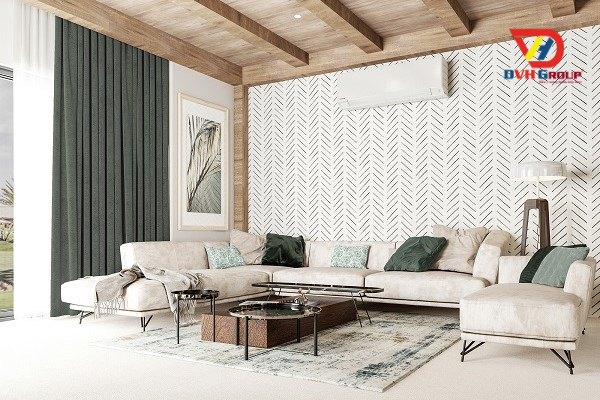 Unique features in rustic style architecture interior
Although today there are many people designing houses in the Rustic style. However, many people still do not understand or understand this style incorrectly. So how is the Rustic style understood?
Rustic interior style brings simplicity and simplicity. But the interior is very modern. Fully equipped with functions. This style helps to create a warm, comfortable, natural feeling. But also extremely delicate and luxurious.
Currently, the style of interior decoration Rustic has had changes and variations to satisfy many different needs. However, the most basic and core values ​​of the style are still maintained to the present. Can include styles such as: Classic Rustic, Modern Rustic,…
Features of interior design in the style of Rustic
Prioritize the use of wood and stone materials
With a natural-oriented style like Rustic, it is definitely indispensable for the presence of wood and stone in the design. Thereby, giving us a feeling of simplicity, rustic, not fussy but no less luxurious. Show off the owner's own lifestyle. Because of that, many families love to pursue this style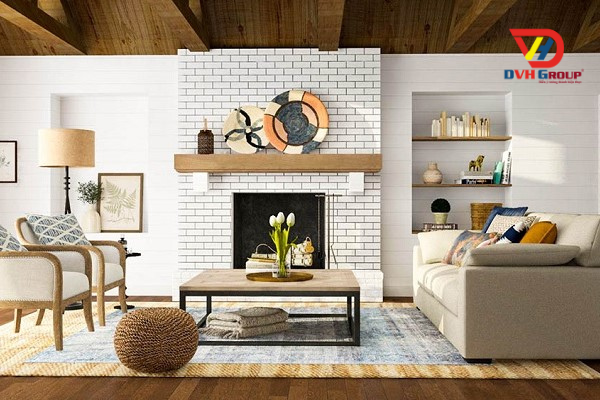 Natural fabric design
The next indispensable highlight is the carpets in the house. Natural, embroidered carpets show perfection, meticulousness, and refinement, and at the same time show the aesthetics of the living space.
Use the right colors
This style mainly uses colors with warm, simple tones. Mainly natural colors such as stones, trees, wood, etc. In particular, in this style, the walls are usually painted white or gray. And the stone is used for exterior paving without cement plastering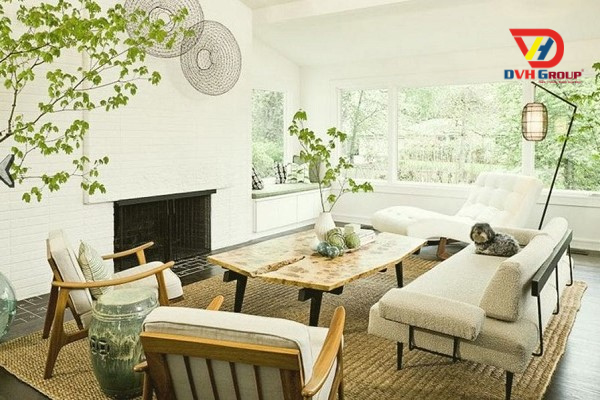 Ventilated window design
With this design, the window is considered a special highlight. To create a rustic style, the windows must be designed to be large and wide, creating an open space for light to enter, making the room full of energy.
At the same time, through which people can also directly receive the breath of nature. Being immersed in nature creates a feeling of relaxation and comfort for the owner
Modern furniture meets all functions
In addition to the beauty and sophistication, the interior that meets everyone's use requirements is a must. No matter how beautiful it is, if the functions are not performed well, they should not be used in your home.
Popular decorative styles of the Rustic style
Modern style
The modern Rustic style that Vietnam is using, is a blend of the old classics and today's modern. However, modern Rustic applies many designs with more graphics and details than the classic Rustic style.
Classic style
This style dates back to the earliest days in Northern Europe. This style favors the use of wood and metal bars. Besides, other raw materials such as rustic bricks, ceramics, also create a classic rustic style
DVH Group – Rustic interior design construction unit
With the maintenance and development for many years, DVH Group is proud to bring to you the interior designs of apartments, restaurants, hotels that are new, trendy, and catch up with the trends of the times. With a team of architects and experienced staff in the field of design and construction. We always bring our customers the best value and satisfaction. We always put product quality and reputation first. Therefore, you do not need to worry and put your complete trust in us.
Contact
DVH GROUP 
Address: 196/1/19-21 Cong Hoa, Ward 12, Tan Binh District, HCMC
Office: 22 Nguyen Trung Ngan, Ben Nghe Ward, District 1, HCMC
Email: info@dvhgroupvn.com
Hotline: +84 28 668 06166
Or leave information for a quick and free consultation!
Contact Us
DVHGROUP CO., LTD
Address : 22 Nguyen Trung Ngan, Ben Nghe Ward, District 1, Ho Chi Minh City
Mobile : +84 975 969 608
WhatsApp : +84 975 969 608
Email: info@dvhgroupvn.com
Real estate consultant in Vietnam