INTERIOR DESIGN ELECTRONIC STORE
A aesthetic electronic shops will attract customers to buy more. Let's take a look at the benefits of designing a beautiful electronic shop with DVH Group.
Details content
For shop owners, before starting a business, they always find their shop the most suitable and beautiful shop design style. And electronic shops also want their shop to have the most aesthetic, attracting customers to buy more. Let's take a look at the benefits of designing a beautiful electronic shop with DVH Group.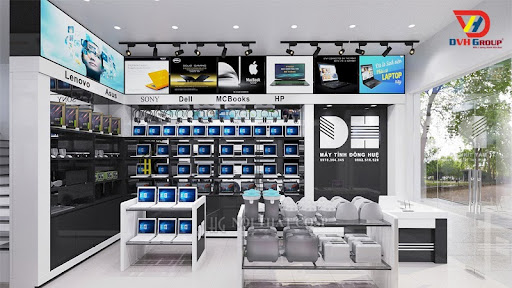 Electronic shop interior design
The design helps the e-shop to have a beautiful space and attract customers
Nowadays, not only electronic shop owners but also customers are also very interested in the design of the interior space of a shop that they come to buy. The more beautiful and modern the interior design of the e-shop, the more attractive it will be for customers and make them more interested in buying.
Although products and product quality are important factors affecting customers' purchasing decisions, if entering an electronic shop with a beautiful and aesthetically pleasing space, will attract more customers. and make their minds want to bring the whole shop home.
Unique beauty in smart electronic interior style
If you ignore the beautiful e-shop design, it also means that the shop owners have missed the opportunity to make a difference compared to other competitors in the same segment. Beautiful e-shop design creates unique features and attractions for customers. This makes customers want to come back to that e-shop more and can introduce relatives and friends to that e-shop. Therefore, it will help the e-shop to have a certain number of customers, increasing its advantage over other competitors.
E-shop design helps to enhance business brand
In addition to using marketing strategies to enhance the image of your e-shop to customers, an effective way is to make the e-shop interior design more eye-catching and attractive. The design of the e-shop includes the appropriate arrangement of colors and lights, and the coordination with the shop's electronic products will create a creative space, create a private brand, and have a positive influence. influence the shopping habits of customers.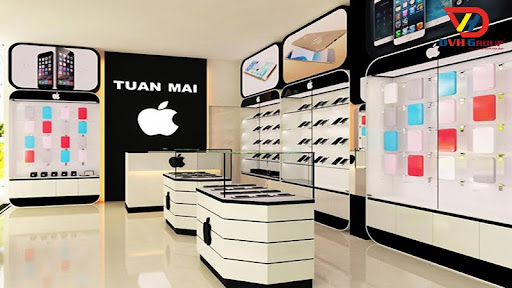 Electronic shop interior design
Saving and reasonably controlling the construction cost of electronic shop interior design
The shop owner planning to design and orient his e-shop interior style also helps shop owners reduce design testing costs. Because when planning the design will help construction faster, decorative items are purchased and used for the right purpose, avoiding waste. The items are used uniformly and follow the overview of your e-shop space, helping the shop owner to limit the arising of other costs.
Thus, the interior design of an e-shop not only brings a shopping space with high aesthetics, attracting customers but also improves brand awareness and increases competitiveness compared to competitors on the Internet. market in the same segment of electronics.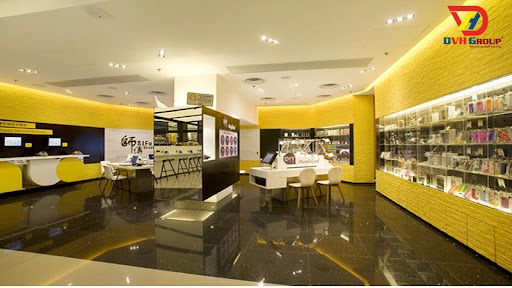 Electronic shop interior design
Reputable electronic shop interior design unit
Designing an e-shop that is synchronized from the outside to the interior is simple. If you want to design your e-shop, then look to professional design units for advice. You will be presented to the most attractive and attractive design style.
DVH Group is one of the prestigious design units in the market today. DVH Group has a team of design engineers with expertise, high skills, working hard for the benefit of customers. DVH Group is confident to bring a highly aesthetic interior space for not only electronic shops but also other spaces. DVH Group will help your shop bring its mark to help you succeed in your business.
Contact Us
DVHGROUP CO., LTD
Address : 22 Nguyen Trung Ngan, Ben Nghe Ward, District 1, Ho Chi Minh City
Mobile : +84 975 969 608
WhatsApp : +84 975 969 608
Email: info@dvhgroupvn.com
Real estate consultant in Vietnam