Surely a modern office with open space is the style many people aim for. Open-plan offices are the ideal theme. Common workplace of departments and divisions of the company. The departments will be allocated a certain space, specifically under an office roof. Besides, open space is also space. There is no obvious separation, moving back…
Details content
Surely a modern office with open space is the style many people aim for. Open-plan offices are the ideal theme. Common workplace of departments and divisions of the company. The departments will be allocated a certain space, specifically under an office roof. Besides, open space is also space. There is no obvious separation, moving back and forth is flexible and very fast….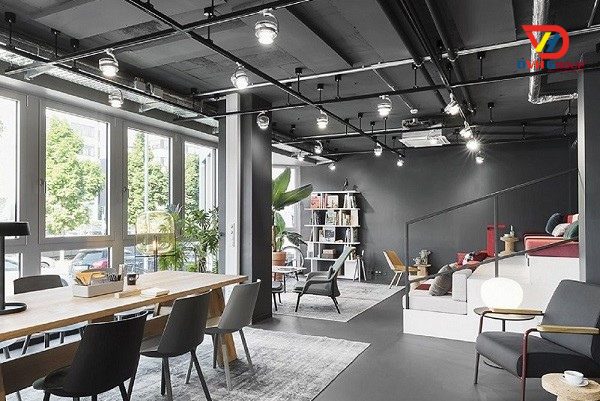 Features of modern office according to open space
Short wall or panel
Use mezzanine partitions or panels. Although the office is open, priority is given to installation in the direction of ventilation. There is no separation but to create a larger space, installing panel dividers will be a great benefit
Create an open space
Removing partition walls, this removal helps the office space to look from the outside. It will feel more spacious and airy…. Employees can easily see it. Although there is still a way to prevent mezzanine. But it is still possible for employees to see each other to easily exchange work.
Area of ​​space
The open space occupies a large area because of the lack of privacy. So most of the time, when the office is open, employees will only exchange business information for the most part.
There are very few private offices and closed rooms designed in a modern style. Because open space is very little or possibly none. This type of room is only for the departments that need meticulous attention such as: exchanging partners, implementing some plans, or most commonly, meeting.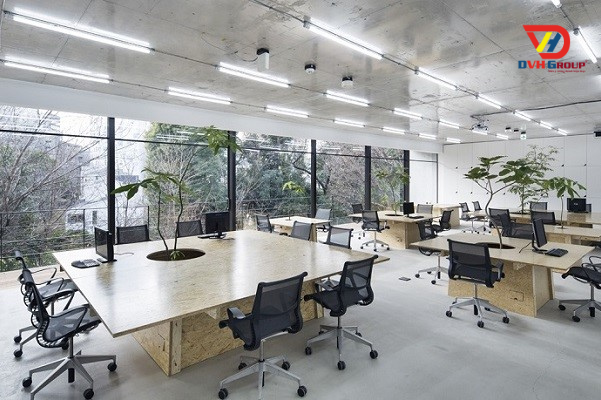 Modern open space office design style
The office design follows the open space. Help save costs and save space (the area is reduced just to work)
Open modern office design, helping to take advantage of many functions at work: office, meeting room, conference room most flexibly and conveniently. In addition, when designing this office, it will limit the bulky and quantity.
Advantages of open modern office design
Save a lot of money buying furniture, components, design, and construction time.
Save on cleaning costs and maintenance costs.
Easily monitor task management
Optimizing light sources and natural gases
Easily give employees a space to interact and exchange some necessary information when needed
Creating work flexibility helps to save time and effort to move between employees of different departments.
Promote growth and creativity in the work process.
Help improve the health status of employees: being exposed to light is mentally comfortable.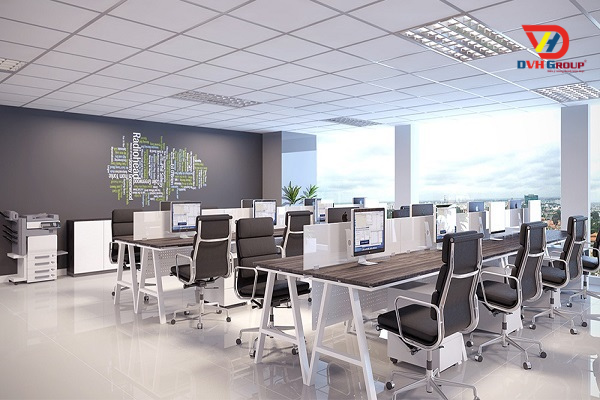 Notes when designing a modern office in an open space
Choosing the right furniture for a modern office: This option ensures the connection and interaction between employees, easily creating a private space for each individual to work together.
Prioritize the use of transparent glass for modern office design in open space: Helping each person's vision to be expanded, encouraging creativity in the working process.
Again choose decorative items according to the open office: create comfort for the office.
The main color creates a harmonious working space, expressing originality and aesthetics.
Really clear research for inspiring workspaces.
DVH Group – Service support investment unit
DVH Group
is a corporation with many years of experience, in the process of working, DVH Group always brings trust to people. Always focus on investing in potential projects to bring the highest value to you. In addition, with a team of dedicated and experienced staff, they will answer all your questions
Contact Us
DVHGROUP CO., LTD
Address : 22 Nguyen Trung Ngan, Ben Nghe Ward, District 1, Ho Chi Minh City
Mobile : +84 975 969 608
WhatsApp : +84 975 969 608
Email: info@dvhgroupvn.com
Real estate consultant in Vietnam