CHOOSE A STYLE OF OFFICE INTERIOR DESIGN 50M2
Not too large nor too small, the 50m2 office will probably make it difficult for many construction units to design when setting the criteria of comfort, modernity and art. For DVH Group, the interior design of a 50m2 office space is both a challenge and an opportunity to demonstrate professionalism and creativity in design and…
Details content
Not too large nor too small, the 50m2 office will probably make it difficult for many construction units to design when setting the criteria of comfort, modernity and art. For DVH Group, the interior design of a 50m2 office space is both a challenge and an opportunity to demonstrate professionalism and creativity in design and construction. With the suggestions below, maybe you will be able to choose for your office a satisfactory style.
General note in office interior design 50m2
For some medium-sized companies and tend to expand, an office of 50m2 can be considered as limited in area. Therefore, these general notes in the design of this office are very necessary and should be carefully considered.
Understanding the vision, culture as well as estimating the size of the business operating is the key to determining the most appropriate interior design style.
The second is to focus on optimizing design and construction costs. Each design style requires different costs. The cost optimization will depend on the style you choose to design. So follow the recommendations of DVH Group to see which design you need to choose.
The third is to refer to the interior layout in a scientific way. Because the office design area is 50m2, the scientific interior arrangement will free up more space. Thanks to that, the office area looks larger.
Any office design needs to ensure the above factors. Especially for offices with a small area, these factors must come at first.
So what are the designs that meet all of the above criteria, chosen by many units. All will be answered shortly.
Interior design office 50m2 expanded and modern
Open design is often represented by the removal of brick walls, cutting down on heavy partitions. This is also a design style that creates cohesion between employees and teams, creating ease in movement.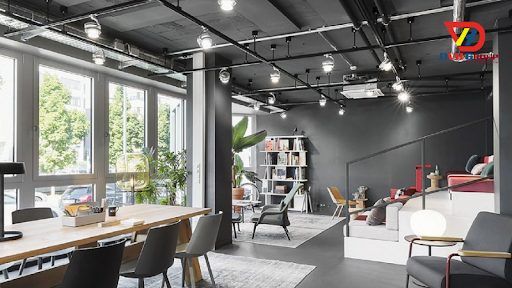 At the same time, it is convenient to manage, operate and observe the entire operation of the whole company, effectively saving space.
This 50m2 office interior design style also arranges everything in a smart, scientific and sophisticated way, creating the most extensive and open vision.
Office interior design 50m2 green, clean, beautiful
Green office has been a trend in the art interior design industry. The harmony between man and nature must have shortened the gap between technology and the natural environment, bringing abundance and a friendly connection.
The use of space or any small corner in the space in a reasonable and skillful way, without affecting the comfort of the office will create a feeling of comfort, closeness and no secret.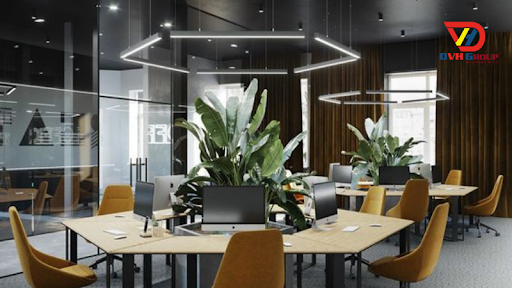 More creative is the construction of green partitions throughout (green walls, green umbrella frames …), surely the workspace will become more attractive and create more inspiration for employees.
Office interior design 50m2 with unique raw materials
Currently, office interior designs are becoming more and more special and attractive. Especially discovering and finding new materials and materials to choose for customers.
Using materials such as rustic, raw with high aesthetics and novelty such as:
unpainted wall

bare filament light bulb

baskets hanging from ropes

…
Created unique office designs without affecting the area in the room.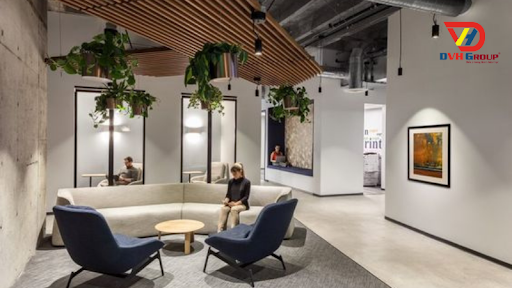 The application of raw materials in office design is currently especially popular because it has blown a new breath of artistic office decoration and design.
Moreover, it also increases creativity, stimulates imagination, creates subtle accents throughout the office and helps employees achieve high work performance.
Another plus point of office design with raw materials is to help business owners optimize time and costs for polishing, painting walls and many other additional fees.
DVH Group – The place to realize office interior designs of 50m2
In order to choose the most suitable style for an office with an area of 50m2, besides shaping style ideas to apply, but also relying on in-depth consultation from a reputable office design and construction unit in the world market.
This is also a partner that accompanies the business, making a decision to prioritize. So please quickly contact DVH Group as soon as possible to receive a free consultation with the best price.
Contact Us
DVHGROUP CO., LTD
Address : 22 Nguyen Trung Ngan, Ben Nghe Ward, District 1, Ho Chi Minh City
Mobile : +84 975 969 608
WhatsApp : +84 975 969 608
Email: info@dvhgroupvn.com
Real estate consultant in Vietnam