A mini spa is a form of a beauty salon that usually has a small area, providing several services such as body care, nail, tattoo spray, … On the market today, many spas are springing up. Although many spas have been opened, the beauty needs of customers are still high, so spa is an industry…
Details content
A mini spa is a form of a beauty salon that usually has a small area, providing several services such as body care, nail, tattoo spray, … On the market today, many spas are springing up. Although many spas have been opened, the beauty needs of customers are still high, so spa is an industry that many people choose to invest in.
However, how to turn your mini spa with beautiful interior design, attracting customers at low cost, a small area is a difficult question? DVH Group will show you a few tips to redesign your mini spa to be more spacious and impressive.
Note before designing mini-spa interior
When designing the interior of a mini spa, special emphasis is given to you some points as follows:
It is necessary to determine which type of spa business you run because each type of spa will have a different design.

It is necessary to determine the audience that you target: gender, age of customers. Each different group of customers will have different aesthetic tastes, so you need to design your mini spa accordingly to create a good impression and feel in tune with your customers.

Need to determine the style of mini spa design: there are a variety of design styles for you to choose from such as luxury style, modern style, antique style, country style, or the style of a certain country. there,…
The mini-spa does not mean empty, spacious spa means crowded. Is a large number of guests or absence of guests the big reason comes from whether your spa interior design is beautiful, has its features, attracts customers to make them want to come back again or not? So mini spas can completely become attractive, fully equipped if you know how to design your mini spa interior.
Some tips in mini spa interior design
Tips with mirrors
Mirror – extremely powerful weapon, helping to increase the space of your spa. This is a very effective solution. It is both for decoration and for a more spacious and airy spa space.
You can use different types of mirrors such as:
Large wall mirror to deceive the eye

Stylized mirrors for decoration are cheap but still bring elegance.
But you also do not overdo it lest the opposite effect makes customers feel uncomfortable.
Tips with light
When designing a mini spa interior, especially when designing a lighting system, you should install lights with different light intensities in each area. It will be perfect when you know how to combine the light of the lamp with the mirror to make the space brighter and larger, but also save money.
Color tips
With mini spas, you should not choose too many colors, otherwise, the mini spa will be confusing and uncomfortable. Mini spa interior design needs a harmonious combination of colors together, between colors and materials to create a synchronization and unity for the mini spa space.
Tips with furniture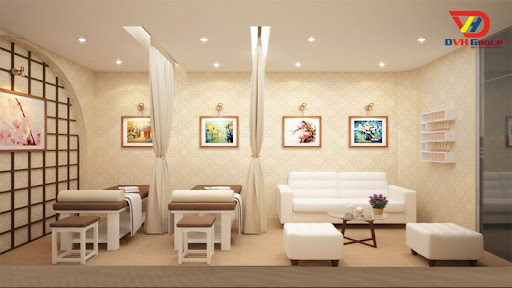 You need to be extremely careful to buy furniture with small stimulation, enough for use, multi-use. You should choose cabinets with a suitable design, colors that are in harmony with the general design style of the mini spa. Furniture such as chairs, tables, and beds should be carefully selected and placed in appropriate positions to maximize space. This will make your mini spa space more scientific, saving more space.
Tips with decorations
Want to design your mini spa interior to become more beautiful with more accents, it is indispensable for decorative objects. You should choose objects with colors suitable for the general space of the spa, fresh and elegant. A few pictures, flower pots, or small beautiful plants are a good choice for a mini spa space. However, you should not use too many decorations because too many will make the mini spa space confusing and overwhelming.
DVH Group – Prestigious quality interior design unit
Above are a few tips in the process of designing a mini spa interior that DVH Group has for you. Please contact DVH Group immediately for advice, support to design ideas, and build a beautiful, scientific mini-spa space, bringing comfort and relaxation to your customers.
Contact Us
DVHGROUP CO., LTD
Address : 22 Nguyen Trung Ngan, Ben Nghe Ward, District 1, Ho Chi Minh City
Mobile : +84 975 969 608
WhatsApp : +84 975 969 608
Email: info@dvhgroupvn.com
Real estate consultant in Vietnam