WEDDING RESTAURANT DESIGN
Wedding restaurants are gradually becoming the choice of many people, not only in big and small cities. At that time, the competition between wedding restaurants increased, requiring an impressive wedding restaurant interior design, especially to attract customers. Understanding that, DVH Group will introduce to you wedding restaurant designs that not only meet standards but also…
Details content
Wedding restaurants are gradually becoming the choice of many people, not only in big and small cities. At that time, the competition between wedding restaurants increased, requiring an impressive wedding restaurant interior design, especially to attract customers. Understanding that, DVH Group will introduce to you wedding restaurant designs that not only meet standards but also help create a special impression.
Standards in wedding restaurant interior design
Not only stopping at aesthetic standards, but the interior design of a wedding restaurant also needs to have a harmonious combination of many other factors, helping to create distinctive and impressive features. To achieve that, the wedding restaurant should first be designed according to certain standards.
Standards in layout and interior design
The style of decoration and interior design is an important factor contributing to the success of the business as well as making an impression on the customers. Arrange and arrange areas such as the wedding hall, organization space, or restroom so that it is convenient to move and link between areas.
The style or design theme the restaurant chooses will influence the interior to be prepared. This interior needs to ensure that it is "ton sur ton" with style, avoiding the disjointed and less aesthetic overall situation.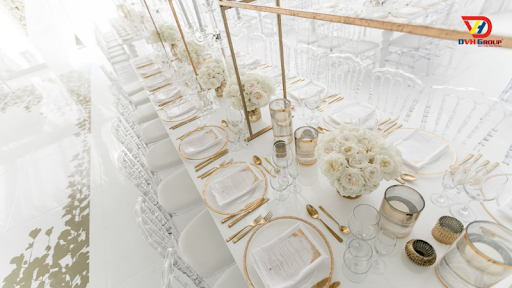 Besides, the use of fresh flowers and green plants in the decoration will create a fresh, natural, and cozy space.
Standards of tables and chairs in the interior design of the wedding restaurant
Tables and chairs used in wedding restaurants are now offered for sale with a variety of designs, designs, and materials. However, in the interior design of the wedding restaurant, the special tables and chairs need to have unity and connection with each other. This helps them create harmony with the entire surrounding space.
Standards for sound and light
Sound is the element that creates emotions for attendees at the wedding restaurant. Therefore, the sound needs to be processed so that it is smooth, stable, and does not affect the conversation of the guests.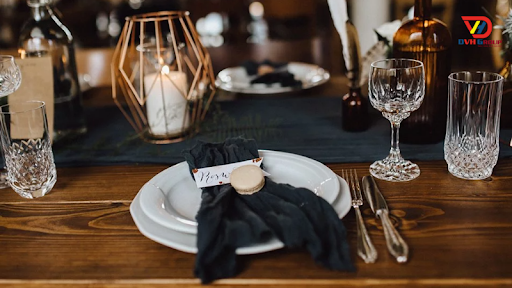 The lighting used in the restaurant needs special attention, illuminating evenly with standard brightness. You may not know, using effective lighting will help the restaurant space become more open and modern. In addition, the appropriately arranged lighting system also creates a shimmering and romantic atmosphere for the entire party.
Feng shui elements in wedding restaurant interior design
In addition to the above standards, the feng shui element can be considered as what creates success and longevity in business. According to feng shui, if the restaurant wants to develop successfully, the restaurant needs to have abundant prosperity.
The standard feng shui restaurant size is usually about 2.8 – 3m high. This height is both aesthetic and suitable for the fortune line. Besides, it is also necessary to use luxurious and delicate furniture to create positive air for the room.
The current trend of wedding restaurant interior design style
Interior design wedding party with pure white color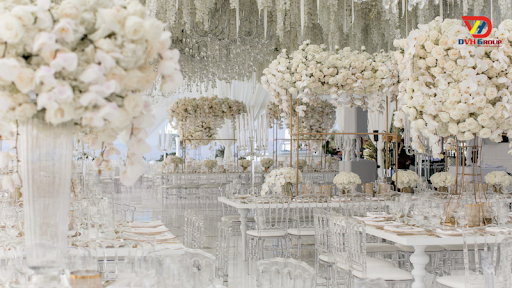 Using white as the main color enhances the elegance and elegance of the space.
Wedding decoration in vintage style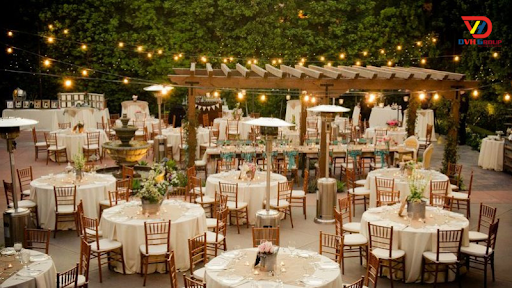 Nowadays, the vintage style is very popular and is loved by many people. Thanks to the use of warm colors, this style creates lightness, sophistication, no less splendid and romantic.
Western-style wedding decoration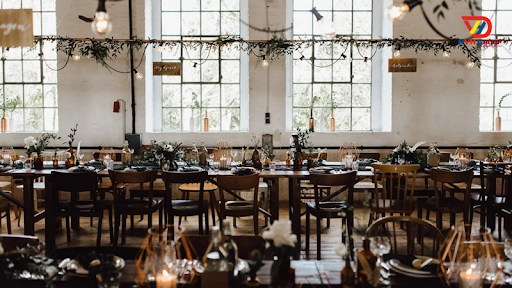 Western-style wedding restaurant interior design requires preparing a lot of fresh flowers. Choosing a Western-style will make the party more luxurious and special than ever
Magical Sparkling style wedding decoration
Whimsical or Sparkling is a design style that brings shimmering and brilliant beauty. That is because of the sparkle of crystal, glass, and extremely impressive lighting system installed in the banquet hall.
Modern and sophisticated Metallic style wedding decoration
Metallic style with subtle beauty with a bit of magic will be an impressive wedding interior design. Use decorative accessories with extremely prominent golden luster such as polygonal blocks, hollow metal blocks … combined with decorative flowers and trees. The overall impression will make the guests stronger than ever.
Choose a reputable wedding interior design unit today
Because of the strong development of the wedding restaurant and the introduction of wedding styles from many different countries, many wedding interior design units have appeared. Choosing the right wedding interior design unit is extremely important.
DVH Group is proud to be a unit with many years of experience in the fields of interior design and interior construction leading in Vietnam. With these achievements, DVH Group understands that the needs and satisfaction of customers are the most important thing. Contact us now to get more wedding restaurant interior design options and get a quick quote.
Contact Us
DVHGROUP CO., LTD
Address : 22 Nguyen Trung Ngan, Ben Nghe Ward, District 1, Ho Chi Minh City
Mobile : +84 975 969 608
WhatsApp : +84 975 969 608
Email: info@dvhgroupvn.com
Real estate consultant in Vietnam