INTERIOR DESIGN OF JAPANESE RESTAURANT
Today's Japanese restaurants are not so popular, but they have a strange attraction. From the restaurant space to the interior design of the Japanese restaurant and the taste of the food. All make the diners remember forever. To help investors have a more detailed look at the interior design of a Japanese restaurant, DVH Group…
Details content
Today's Japanese restaurants are not so popular, but they have a strange attraction. From the restaurant space to the interior design of the Japanese restaurant and the taste of the food. All make the diners remember forever. To help investors have a more detailed look at the interior design of a Japanese restaurant, DVH Group will introduce current features as well as impressive designs.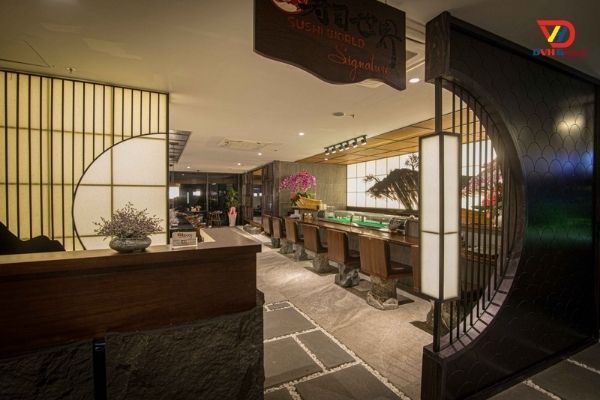 Impressive Japanese restaurant interior designs today
Currently, two types of Japanese restaurant interior design are most noticeable: Zen style and Tepanyaki style. Each style will bring a unique spirit with a sophisticated and impressive layout.
Minimalist and cozy Zen-style Japanese restaurant interior design
If you have a space that is not too large, design orientation, and build a minimalist restaurant that is elegant and cozy, this Zen design is not to be missed.
In this design, the kitchen will be arranged in a separate area and not in the eyes of customers. After completion, the new dishes are served to diners.
Notably, only the hot kitchen (where cooking, frying, and stir-frying dishes are processed) is separate, while the cold kitchen (processing Sashimi, Sushi, …) is designed right in front of the diners' seats. At that time, diners will directly order dishes with the chef and witness the extremely impressive dish-making operations.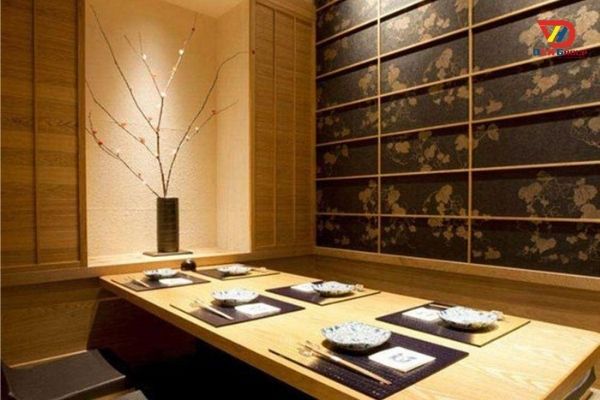 Tepanyaki style Japanese restaurant interior design
Tepanyaki is known as performance cuisine. This is a style chosen by many big investors because it brings an unforgettable experience to diners. Because diners will be able to directly witness the chef performing the skillful and beautiful cooking process.
Therefore, the standard when designing a Japanese restaurant's interior in the Tepanyaki style is very high. Requires rigor in every design detail to ensure safety for customers and convenience for chefs when demonstrating cooking.
For this design, the choice and use of furniture are very important. The table top for guests is made from heat-resistant polished stone. Rack for tools and ingredients will be prepared right next to or behind the chef's stand.
Moreover, each Tepanyaki table is equipped with a hood to help ensure that the air is not too smelly and does not cause odors on diners' clothes.
Features in Japanese restaurant interior design
The most obvious feature of the interior design of a Japanese restaurant is the minimalist, sophisticated space and always in harmony with nature.
The interior design of a Japanese restaurant prioritizes minimalism and sophistication
So far, simplicity has always been the most prioritized element in Japanese-style restaurant designs. This simplicity is not monotonous, it is simple but still extremely delicate, aesthetic, and convenient for diners.
In the space of Japanese restaurants, there are usually 3 main spaces. These are the bar, lounge area, and lounge area.
Bar area: Usually designed in wood with luxurious beauty, with lights that are not too bright to highlight the artfully decorated dishes.
Dining room using high chairs: Decorated with wooden tables and chairs with compact design, suitable for guests to enjoy the food while admiring the special design of the restaurant.
Sitting room: Using traditional wall hangings, ceramic vases to decorate, and using bold Japanese dining tables and dishes. Overall creating a private space for customers.
When using this lounge area, diners will experience the lifestyle of the people of the land of cherry blossoms. The sliding door with wooden frame and paper is both a separation between spaces and decoration for the restaurant.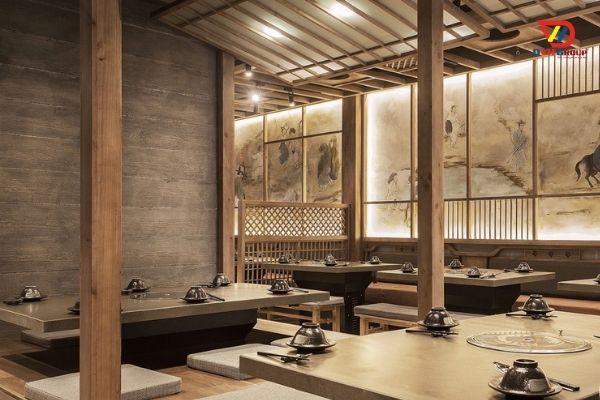 Color and light in Japanese restaurant interior design
About color: In Japanese restaurants often use deep tones or neutral tones such as wood, white, etc. as the main color, contributing to creating a space full of positive energy.
About light: The design makes maximum use of natural light by using light from large windows and doors combined with harmonious artificial light from lanterns and lanterns. All create a clean, beautiful light for the restaurant.
How to decorate a restaurant with bold Japanese character
The paintings of samurai cherry blossoms, girls wearing kimonos, traditional lanterns, sake flasks, etc. are the most familiar and simple decorative objects to create cultural features and identity of the country. Japan in this restaurant
With the above information, hopefully, you will have a clear view of Japanese restaurant interior design. The success of the Japanese restaurant is also the success of the interior design unit. Therefore, please contact DVH Group immediately to create the success of your restaurant.
Contact Us
DVHGROUP CO., LTD
Address : 22 Nguyen Trung Ngan, Ben Nghe Ward, District 1, Ho Chi Minh City
Mobile : +84 975 969 608
WhatsApp : +84 975 969 608
Email: info@dvhgroupvn.com
Real estate consultant in Vietnam