FACTORS TO KEEP IN MIND WHEN DESIGNING THE INTERIOR OF A PEDIATRIC CLINIC
Currently, with the trend of meeting the needs as well as bringing health care and treatment services closer to the people, many clinics, especially pediatric clinics, have been built from rural areas. to the city.   However, unlike normal clinics, the pediatric clinic has its requirements in the design stage. So what are those requirements?…
Details content
Currently, with the trend of meeting the needs as well as bringing health care and treatment services closer to the people, many clinics, especially pediatric clinics, have been built from rural areas. to the city.
However, unlike normal clinics, the pediatric clinic has its requirements in the design stage. So what are those requirements? What issues do we need to consider and consider when designing and constructing? We will find out together in this article
Safety
The clinic always puts patient safety first. The difference between a pediatric clinic compared to other clinics is that there must be a play area for children. When having fun, the children will be more excited and less anxious, and afraid when going to the clinic, this is also a place for parents to visit and talk about their child's health. 
Therefore, the play area must be put to the highest safety, must be designed so that the children are easily controlled by their parents, cannot run around. Objects must also be designed to be minimalistic, limiting sharp objects to avoid hurting children.
Main good sound insulation
Good sound insulation is an important factor in the design of a pediatric clinic. Most clinics have to make sure they are built specifically for a pediatric clinic. The characteristic of this type of clinic is that the patients are small children, so it is difficult to avoid disturbances, screaming, and crying. Therefore, good soundproofing not only ensures the quality of the doctor's examination of pediatric patients but also avoids confusion and fear for new arrivals.
Cheerful colors
Cheerful colors are the right colors for the pediatric clinic. Usually a clinic today tends to color schemes in a minimalist and harmonious style to create a feeling of comfort for the patient. However, due to its specificity, a pediatric clinic must be colorful, dynamic, fresh, combined with animal shapes, princes, and princesses to make children feel excited.
Understanding the psychology of parents
It is a fact that no parent wants to have to take their child to a clinic for health reasons, but that does not mean that they do not have the right to be evaluated, selected, and made a decision to put their trust in the clinic. any. 
That's why your clinic needs to show thoughtfulness to the patient's parents. A few small suggestions such as you need to provide free wifi, a place to sell snacks, a place to charge your phone, a spacious and airy waiting room for them to feel comfortable while waiting for the results.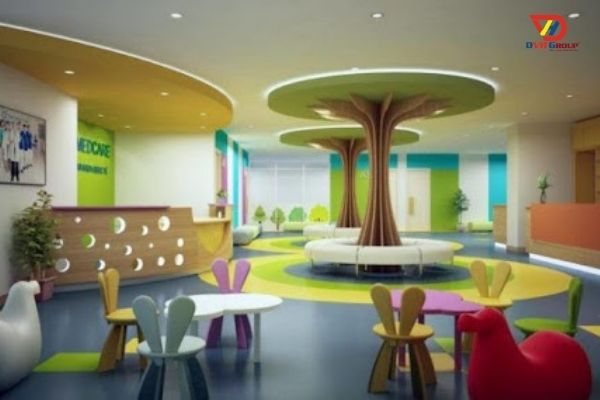 Clean restrooms
A clean toilet area is a plus point for the pediatric clinic. This is an area where safety and hygiene are always set at the highest level. This is an area where safety and hygiene are always set at the highest level. The Covid 19 pandemic is happening very complicatedly.
Therefore, the clinic needs to install more hand wash basins, fully equipped with antiseptic water. Cleaning staff must clean continuously to limit the appearance of stains. Especially the spread of pathogens, bacteria that easily invade the body of young children.
DVH Group – Prestigious interior design construction unit
Many years of experience in the field of interior design and construction with a team of experienced architects and engineers. DVH Group designs high-class projects such as the interior design of luxury villas, high-class townhouse furniture, modern office furniture…, superior quality products that meet the needs as well as requirements. customer expectations. Coming to DVH Group, customers can completely trust the aesthetics, construction progress, and professionalism in the working process.
Contact Us
DVHGROUP CO., LTD
Address : 22 Nguyen Trung Ngan, Ben Nghe Ward, District 1, Ho Chi Minh City
Mobile : +84 975 969 608
WhatsApp : +84 975 969 608
Email: info@dvhgroupvn.com
Real estate consultant in Vietnam