INTERIOR DESIGN OF MILK TEA
To have many options for the layout and arrangement of the milk tea shop. DVH  – Group will introduce to customers the design styles of milk tea shops that are quite popular today Some trending design styles Modern style restaurant design After a long day of stressful work, I was tired. Most people will tend,…
Details content
To have many options for the layout and arrangement of the milk tea shop.
DVH  – Group
will introduce to customers the design styles of milk tea shops that are quite popular today
Some trending design styles
Modern style restaurant design
After a long day of stressful work, I was tired. Most people will tend, want to find a place to clear their minds. Choose a drink bar with a bright, sophisticated design. Give customers a feeling of comfort and relaxation. So, look to milk tea shops with youthful – dynamic – modern design.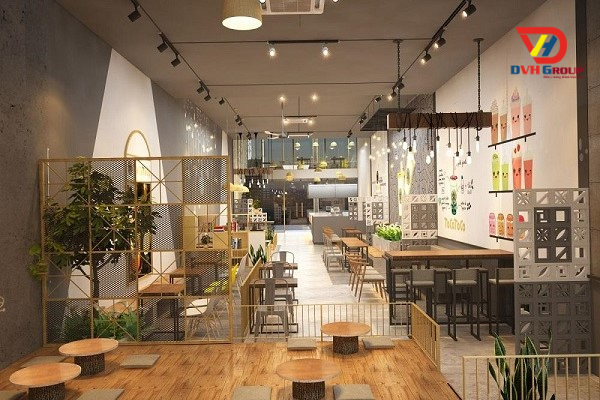 Modern style cafe design combined with the acoustics
The combination of enjoying coffee and music. This is a model aimed at music lovers. Accordingly, this style should be arranged in a simple form. Elegant color combination. Brings a modern yet youthful appeal.
Modern interior design
Combined with minimalism brings a comfortable relaxing space. Along with that is the sparkling and luxurious interior arrangement.
Some must-have highlights for the modern style of milk tea shop:
Should use decorative wall paintings or 3D photos to create accents
Use ceiling lights to illuminate the ceiling for extra light
Design a sidewalk style shop
Note when choosing a model to set up a decoration for the shop:
Define your target audience clearly
If the customer is a student, priority is given to decorating in a youthful, hot trend, or disruptive style. If the customer is an office worker, you should choose the decoration in a contemporary, minimalist, or classic style…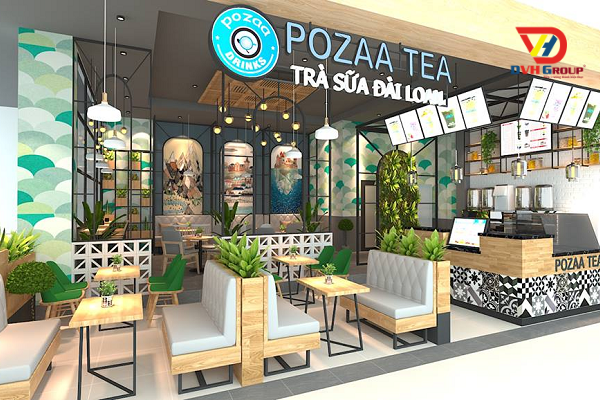 Choose the right business location
Should choose areas near schools, office buildings, entertainment areas or places with a lot of people passing by. In particular, it should be noted that the business premises must have a large area, possibly located at a corner lot or an intersection, with parking space and limited sunlight during the day.
Choose a beautiful decoration solution
Attractive but cost-effective, you can use decorative solutions with wall paintings, wallpaper, or wall art. These decorative forms both bring a unique and impressive space and save costs.
Some types of sidewalk milk tea shop design
Design uncovered sidewalk milk tea shop
Design an outdoor milk tea shop with a tarpaulin or mobile awning
The design of the shop combines half indoor and outdoor…
Design a stylish Milk Tea shop combined with Lemon Tea
Design a garden-style restaurant
For this style, the front of the shop or the bar counter is the first space to attract customers. The garden area must be spacious, airy, with lots of green space to create fresh air for customers to enjoy milk tea.
An impressive and unique designed dispensing counter will also create a highlight for customers. Furniture used mainly wood will bring closeness, friendliness with nature and make an impression on customers.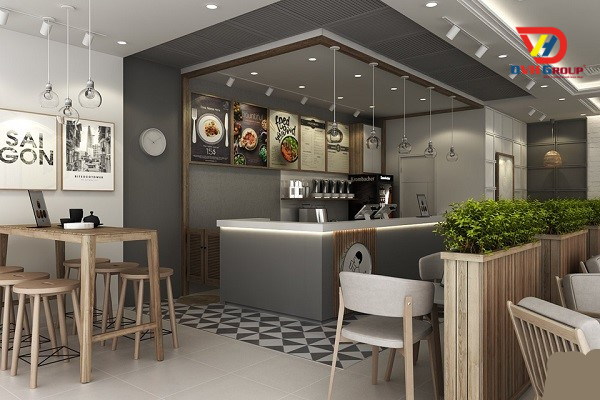 Design garden space
Garden space is divided into 3 reasonable areas: outdoor area, central area, and lake area. The system of trees is reasonably arranged. Just created a scene for the milk tea shop. Just bring in the fresh air.
Outstanding outdoor space with wooden furniture: In this style, a simple and popular milk tea shop design is often applied. Wooden tables and chairs, bamboo fence with a few small flower pots. Contributing to make the space not too monotonous.
Design the lake and the central area
The lake is an impressive highlight in this design. The design of a small lake creates a small landscape for the garden space more attractive. Beautiful garden milk tea shop model with green trees, minimalist interior, close to the environment. This design not only creates beauty for the shop. Which with these miniatures brings the harmony of feng shui.
The central area of ​​the shop must be uniquely and creatively designed. The grass floor is paved with large bricks to create eye-catching private paths. Plus the layout of tables and chairs is more impressive than in other areas. Highlight the highlights in the design of the milk tea shop.
DVH Group – Design service support unit
The design of garden milk tea must always meet the criteria of creating comfort and relaxation for diners. The most important thing is to arrange trees in a reasonable way to create fresh and fresh air. A reputable milk tea shop interior design consulting and support unit should contact immediately as DVH Group will not disappoint customers. To have a really beautiful cafe, with a new interior layout, to attract customers, please immediately contact a team of experts at DVH Group for specific advice.
Contact Us
DVHGROUP CO., LTD
Address : 22 Nguyen Trung Ngan, Ben Nghe Ward, District 1, Ho Chi Minh City
Mobile : +84 975 969 608
WhatsApp : +84 975 969 608
Email: info@dvhgroupvn.com
Real estate consultant in Vietnam