INTERIOR DESIGN CAR SHOWROOM
Car showrooms displaying, buying, and selling cars showing off all the beauty of cars. Let DVH Group show you the benefits of elegant car showroom interior design.
Details content
Cars are now the most popular means of transportation. In big cities like Hanoi and Ho Chi Minh City, the number of cars on the road is quite large. The more society develops, the greater the need for people to own cars. Therefore, car showrooms displaying, buying, and selling cars of all kinds are springing up more and more and are more and more interested in displaying and designing beautifully, showing off all the beauty of cars. Follow the article below to let DVH Group show you the benefits of beautiful car showroom interior design.
Highlights in car showroom design style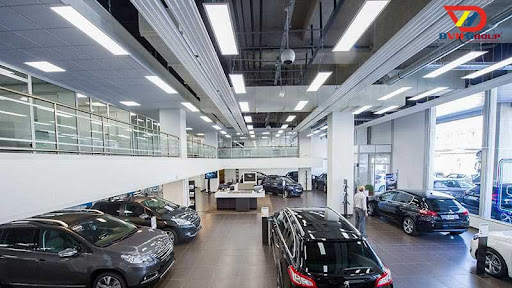 Interior design car showroom
Car showrooms these days are not new, it's not too much to see a car showroom displaying cars. A car showroom has a beautiful interior design, with high aesthetics to help highlight the beauty of the cars on display. The interior space of the car showroom is well taken care of, arranged in a reasonable layout space to make it easier for viewers to see the product and will see all the beauty from the outside to the inside of the product.
Helping showroom space to increase aesthetics
Not to mention the quality of the product, but as long as your car showroom is beautiful and attracts the eyes, it will create a sense of curiosity and interest in customers. Beautiful car interior design makes your sales space more impressive, making customers stop and visit your showroom. Thus, it has been a success in introducing automotive products to customers. This is also part of a marketing strategy that attracts more customers to see, which means more customers will buy cars in your showroom.
Adding value and stimulating customers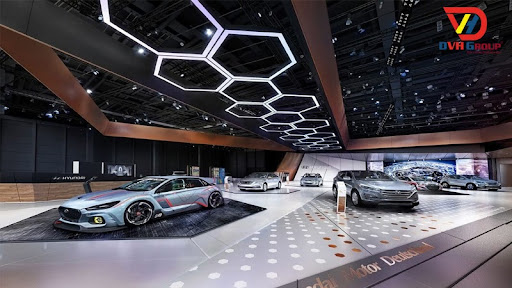 Interior design car showroom
The next benefit of beautiful showroom interior design is a great influence on consumer demand of customers. Any showroom that has an eye-catching interior design will make a good impression on visitors. The first impression when coming to a customer's car showroom is very important, it directly affects the desire to own and shop for customers.
Enhance image and competitiveness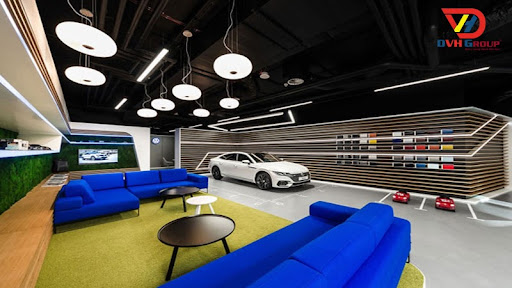 Interior design car showroom
Focus on the interior design of the showroom to be impressive and attractive to help your showroom get more attention. If two car showrooms are placed next to each other, if your car showroom is arranged, scientifically designed, and more attractive, there will certainly be more visitors than a showroom with an unbeautiful interior design.
This is also a way to increase awareness, get known, reach more potential customers for your car showroom. Thereby creating an advantage for your car showroom and increasing the distance to competitors in the same segment in the market.
DVH Group – Prestigious interior design unit
The interior design of a beautiful and modern showroom creates a unique impression, not any design unit can do it. You should choose showroom design units that need to have many unique, luxurious design ideas. And the ability to execute designs on schedule.
Choosing a professional and reputable design unit also helps you save a lot of construction costs and time. Because when cooperating with a professional unit, they will make a plan that makes it easy for you to forecast the total cost to design a car showroom. So that in buying suitable furniture and decorations, there is no unused situation, avoiding waste.
DVH Group is confident to be a reputable car showroom interior design unit, bringing you a beautifully designed and airy car showroom, creating the most comfort for customers, impressing customers. deep impression on customers from the very first time.
Contact Us
DVHGROUP CO., LTD
Address : 22 Nguyen Trung Ngan, Ben Nghe Ward, District 1, Ho Chi Minh City
Mobile : +84 975 969 608
WhatsApp : +84 975 969 608
Email: info@dvhgroupvn.com
Real estate consultant in Vietnam