INTERIOR CONSTRUCTION OF ELECTRONICS SHOWROOM
The electronics supermarket showroom is very crowded. This place sells all home appliances and digital items such as televisions, refrigerators, washing machines, laptops, air conditioners… Therefore, this space needs to be spaciously and beautifully arranged, to display goods. and allows customers to easily observe. However, if you are not a design smart person, organizing and…
Details content
The electronics supermarket showroom is very crowded. This place sells all home appliances and digital items such as televisions, refrigerators, washing machines, laptops, air conditioners… Therefore, this space needs to be spaciously and beautifully arranged, to display goods. and allows customers to easily observe.
However, if you are not a design smart person, organizing and arranging products as well as decorating the showroom will face great challenges due to the huge number of accessible items, not to mention products that are not currently on the market. There are very small things like headphones and computer mice, and there are quite large, heavy, and bulky products such as refrigerators and washing machines.
So how can you build an attractive and different electronics showroom? Generating conversions, while making it easy for guests to order right after visiting? Through hundreds of interior construction projects, DVH – Group will help you solve the questions in this article.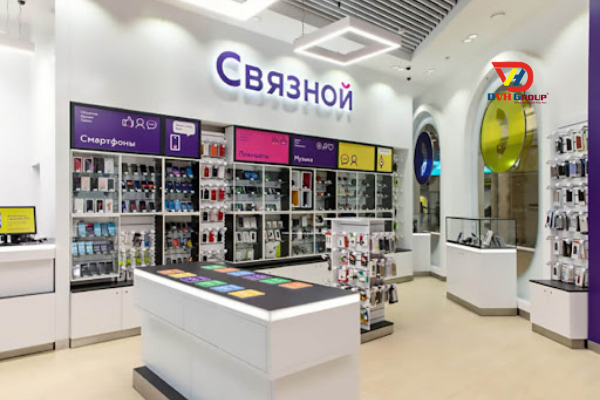 Some notes in the construction of electronic showroom furniture
To serve the sole purpose of the power of the gallery. For each product, there will be a separate space. So here are a few things to keep in mind: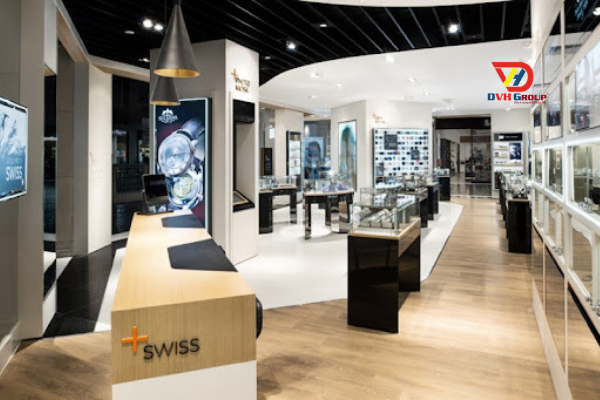 In line with current trends and customers
Since electronics are the focal point, the design of the showroom doesn't need to be too complicated. Rather, it should be basic but outstanding. Modern style electronics showroom design optimally supports the design while still showing the ability to work flexibly and delicately. Suitable for all areas and following the aesthetic tastes of users. Therefore, apply a modern style when designing the showroom.
Electronic showrooms are different from all other types of showrooms in that the place that sells home appliances, electronics, and refrigerators must be displayed simply, impressively, and methodically, comprehensively, but not fussy, to create easy and enough for the customer to see. Choosing a modern design style will also ensure that your design doesn't interfere with the customer's view and journey.
The layout of the showroom must ensure ventilation
The method of displaying electronic goods is also very simple; All you have to do is put the items in the right drawer, in the right area, and in the right category. However, you should always keep the aisles clear so customers can visit more comfortably and your products can be transported more easily.
Color and material accents
To create accents, choose colors and materials that complement each other. When designing an electronics store, color is also essential because it is the focal point of the showroom. Because electronic products do not need to be too prominent, the colors used are usually light and gentle to stimulate. Customer perception Showroom doors should also be made of frosted glass, which helps to increase the attractiveness of the showroom while creating a more spacious feeling. Therefore, we should focus on this area when designing the showroom.
Using MDF shelves
Display shelves are also highly appreciated in adorning the electronics supermarket most cost-effectively; In electronics supermarkets, the product has a large weight, so MDF is very popular with customers. This wood is extremely verifiable, and it is quite the same price as other woods available. In terms of display capacity, its area holds more things than another shelf. MDF wood is also cost-effective, anti-termite, and recommended by experts.
Create a highlight for the brand
Since all electronic devices are now branded individually, you should pay attention to the brand of each product line and product area when displaying. Always put your brand name above the fold so customers can quickly recognize it. You should place an initial order with the popular and mainstream brands in the showroom, then rank them with other brands later, or you can rank the top famous brands and sort products by prices gradually decrease. Attracting customers or not depends on the brand so take care of that.
Moreover, the electronic store interior design must consider the address, as well as the direction of the house to have the most reasonable design. If the showroom is small, we can use the 2nd or 3rd floor, but if it is large, we can only use the 1st floor to ensure that customers are comfortable in and out.
DVH Group – Prestigious construction, design, and interior design unit
With many years of experience in the field of interior design and construction of beautiful apartments, shop design with a team of experienced-skilled architects and engineers. DVH Group designs high-class projects such as the interior design of luxury villas, high-class townhouse furniture, modern office furniture…, products that are superior in quality to meet the needs as well as requirements. customer expectations. Coming to DVH Group, customers can completely trust the aesthetics, construction progress, and professionalism in the working process.
Contact Us
DVHGROUP CO., LTD
Address : 22 Nguyen Trung Ngan, Ben Nghe Ward, District 1, Ho Chi Minh City
Mobile : +84 975 969 608
WhatsApp : +84 975 969 608
Email: info@dvhgroupvn.com
Real estate consultant in Vietnam