INTERIOR CONSTRUCTION OF CAR SHOWROOM
The simplest way to understand the design of a car showroom is a showroom used to display car models for sale. Showrooms are created to promote brands, introduce and sell products and services. To be able to bring success to the business in creating the first impression with customers, the process of interior design showroom…
Details content
The simplest way to understand the design of a car showroom is a showroom used to display car models for sale. Showrooms are created to promote brands, introduce and sell products and services. To be able to bring success to the business in creating the first impression with customers, the process of interior design showroom is an extremely important step. As a unit operating in the field of interior construction, DVH – Group will help you understand and shape the style to your liking.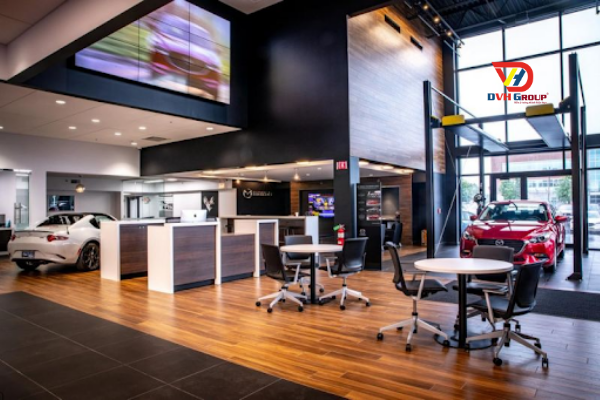 Values ​​in showroom furniture construction
Highlight the brand
Any item or product that is sold always has to highlight the company's brand and leave a mark in the hearts of customers. How the showroom interior design will hit the customer's eyes directly, that's why the use of the brand's logo and distinctive colors is of great importance.
Stimulating customers
The promotional aspects of each showroom interior are always given special attention. To attract customers' investment in the product, it is required to highlight the business items. Building an attractive space is essential to stimulate customer tastes and purchases.
Impressive hands-on experience
With the 4.0 technology era, promoting images on information sites and social networking sites is extremely effective. You have a beautiful showroom, you bring that image to people through electronic information sites, which will help you attract a large number of customers. The value of a product lies not only in itself but also in the place it is placed. Therefore, choose a smart interior design for your car showroom.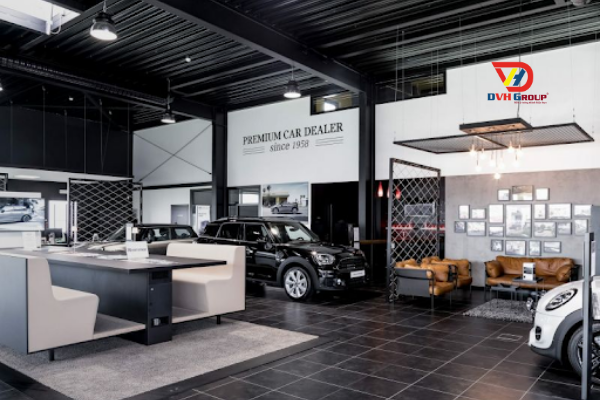 Criteria in car showroom interior design
Select design materials
The materials selected in the construction and design of the car showroom must be both durable and aesthetically-pleasing. The current trend is to prioritize transparent glass. This type of material is both durable and delicate, creating a spacious and airy space, easy for observing products and the space inside. There is also aluminum material, which is also used quite commonly due to its durable, beautiful, easy-to-machine characteristics and diverse designs.
Lighting elements in the showroom
The design of the light source in the car showroom is very important. It not only directly affects the appearance of the car but also affects the customer's mind.
Architects often choose smart lights that can be adjusted according to whether or season conditions. With white and yellow base colors for installation on ceilings and floors. In addition, the design must also ensure to prevent strong sunlight from entering the product, but still, have to take advantage of natural light sources.
Space and color
The design of space and color must highlight the value of the car. Do not choose too many designs, instead just create accents in a few points. The main colors that should be used are colors such as white, cream, gray, or pastel colors that bring a feeling of lightness and sophistication but no less luxurious and classy.
Necessary note in car showroom interior design
Pay attention to the layout and arrangement of items. Choose furniture that has the right size and style for the space while creating convenience for visitors.
The reception area, where signing contracts or receiving guests must be carefully invested, should put the logo in the right position for customers to easily identify the brand.
The design is modern, up-to-date, and ensures energy saving, cost reduction, and safety.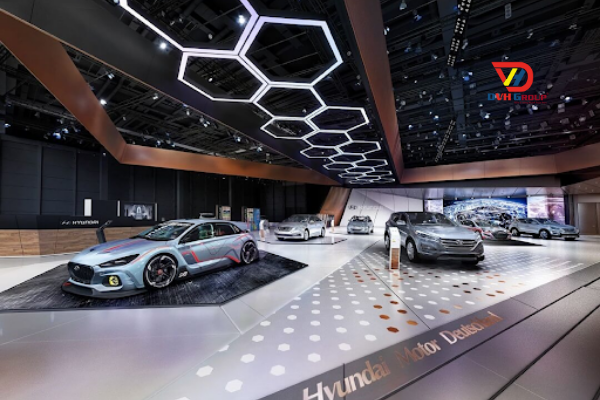 DVH Group – Prestigious and quality car showroom interior design unit
Our car showroom interior design products are always trusted by customers, highly appreciated for both technique, aesthetics as well as quality. DVH Group is known as one of the leading companies in the field of construction design.
With a team of professional staff that are good architects, project managers, and supervisors, dedicated to skilled carpenters, .. we are confident to bring you dedicated consulting services, interior design. Impressive furniture at the most competitive price. DVH's mission is to carry out your dream project, come to us to get the best designs.
Contact Us
DVHGROUP CO., LTD
Address : 22 Nguyen Trung Ngan, Ben Nghe Ward, District 1, Ho Chi Minh City
Mobile : +84 975 969 608
WhatsApp : +84 975 969 608
Email: info@dvhgroupvn.com
Real estate consultant in Vietnam