FIRE ALARM AND FIRE FIGHTING SYSTEM
Currently, the need to design fire alarm and fire fighting systems in buildings and factories is very necessary and popular. This system will ensure safety in the event of a fire incident. We will encounter many of these systems in large apartments and buildings. Standards in the design of fire alarm and fire fighting systems…
Details content
Currently, the need to design fire alarm and fire fighting systems in buildings and factories is very necessary and popular. This system will ensure safety in the event of a fire incident. We will encounter many of these systems in large apartments and buildings.
Standards in the design of fire alarm and fire fighting systems
When designing a fire alarm and fire fighting system for a building, we want to achieve the highest efficiency, quality, and utility. The following criteria must be met:
First, there needs to be an escape system. Ensure adequate doors, corridors, emergency exits, lighting, exit diagrams, ventilation equipment. In particular, it is necessary to have quality warning equipment, operating regularly 24/24. To ensure a quick and safe escape when there is a problem.
For fire alarm and fire fighting systems. It is necessary to ensure sufficient quantity for all installation positions. The technical parameters must be suitable with the characteristics and nature of each project of houses, apartments, companies, factories, etc.
For fire alarm and fire fighting systems in buildings and apartments. It is necessary to put alarm bells at the top – bottom of the stairs to facilitate the alarm. Always have fire extinguishers available, so that they are most convenient for extinguishing fires.

Fire alarm system installation process
The installation of a fire alarm and fire suppression system most conveniently and effectively requires a lot of factors. One of the important factors is dependent on the design.
To have the most complete and scientific design, it is necessary to have a team of experts, knowledgeable about the area. To ensure absolute safety. Investors should choose a quality and reputable design and installation unit. That is the most suitable option.
To make the installation process go smoothly, quickly, and with high efficiency. Professional units usually follow the following process:
Step 1: It is necessary to determine the location to install the fire alarm, then gathers all the wires to the fire alarm center. Note that you should use a quality, safe wire to achieve the highest durability.
Step 2: After installing all electrical wires, conduct insulation for all wires to ensure absolute safety when using.
Step 3: Then comes the step of completing the remaining equipment of the system such as fire alarms, water sources,… Make sure all of them are ready when there is a fire, they will be used immediately.
Step 4: Check the entire system and can a test run to ensure the safety and effectiveness of the installation system.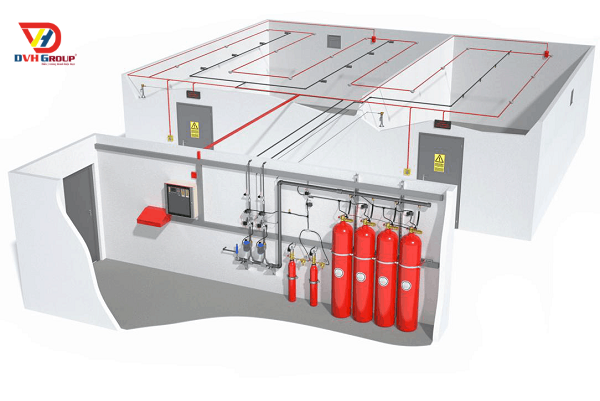 For large buildings, apartments. The installation of fire alarm and extinguishing systems is an indispensable thing. To ensure human safety, avoid unfortunate damage.
DVH Group – Real estate service support unit
To have a safe and quality fire alarm system. There needs to be a team of professionals, highly specialized in charge.
DVH Group
is always the most suitable choice. This is a unit specializing in the design and construction of all issues related to housing, interior – exterior.
DVH Group
is also one of the highly appreciated units in the field of fire alarm and fire fighting system design.
The unit owns a team of professional engineers and technicians, dedicated to meeting all the needs of customers.
Work quickly, take full responsibility for quality as well as maintenance and repair. DVH Group has become a reliable partner of many investors.
Especially those who have used the service at DVH Group can find the design and installation costs here very reasonable. We will give our customers what is worth the money spent. Let's step into the future with DVH Group.
Contact
DVH GROUP
Address: 196/1/19-21 Cong Hoa, Ward 12, Tan Binh District, HCMC
Office: 22 Nguyen Trung Ngan, Ben Nghe Ward, District 1, HCMC
Email: info@dvhgroupvn.com
Hotline: +84 28 668 06166
Or leave information for a quick and free consultation!
Contact Us
DVHGROUP CO., LTD
Address : 22 Nguyen Trung Ngan, Ben Nghe Ward, District 1, Ho Chi Minh City
Mobile : +84 975 969 608
WhatsApp : +84 975 969 608
Email: info@dvhgroupvn.com
Real estate consultant in Vietnam