FASHION SHOP INTERIOR CONSTRUCTION
In today's market, fashion brands are expanding and developing strongly, so the competition in the industry is huge. To create a brand, attract customers, and have a strong position in the market, the best solution for fashion shop owners is to design a unique interior. The importance of fashion shop interior construction Through scientific interior…
Details content
In today's market, fashion brands are expanding and developing strongly, so the competition in the industry is huge. To create a brand, attract customers, and have a strong position in the market, the best solution for fashion shop owners is to design a unique interior.
The importance of fashion shop interior construction
Through scientific interior design, beautiful shop decoration, creating a unique mark that both attracts customers and helps customers easily remember the brand.

The feng shui designs bring luck, favorable in business.

Create a feeling of comfort and enjoyment for customers when shopping at your store, and at the same time create the best working environment for employees.

Fashion shop decor trends in the market
Fashion trends change constantly, that's why the styles of fashion space design are also constantly changing. From unique and impressive style, style towards youthfulness and dynamism, combining prevailing trends, breaking ways to attract customers… The image that the shop owner wants to target will have separate interior design directions.
Modern and luxurious fashion shop design
The main color that is often preferred for this style is a set of contrasting colors, a combination of black – white, or deep brown to bring a sense of elegance, temperament, and class.
Fashion shops with designs like this often deal in fashion items with big brands, targeting customers with a decent income or more.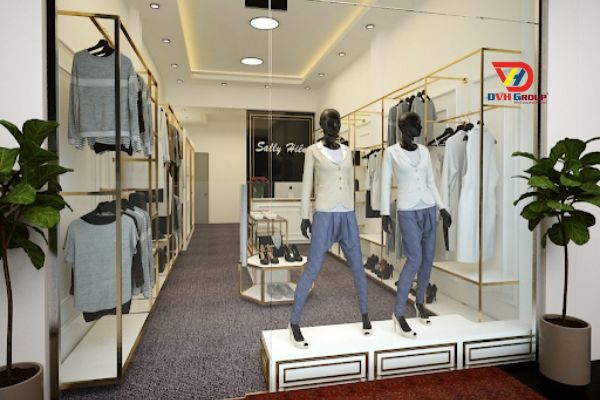 A design shop in Vintage interior style
The highlight in this design is the classic, close and warm features. Depending on the ideas and preferences of the shop owners, the designers will advise on choosing colors, layout, and interior arrangement. and display products in the store in a scientific way to create a deep impression in the hearts of customers.
Minimalist fashion shop style
Not all cumbersome, many details will be beautiful, today many people favor the minimalist design direction. Fashion shops designed in this style often use monochromatic colors, simple lines, but no less subtle.
Tips to pay attention to in interior design fashion shop
Coordination of color and light
Requirements in color and light coordination. Fashion shop interior colors must be compatible, highlighting the products on display.
For example, if you run a fashion business for young people, you should choose bright and dynamic colors such as blue, orange, and yellow. With children's fashion items, you should choose colorful, fun, and eye-catching colors. For office fashion, you should choose gentle colors. Exuding an elegant and elegant look such as beige, light yellow, …
Shop decoration lighting will depend on many factors such as the style that the store wants to target, the color that matches the walls, the products on sale. Each style will have different lamp options, designs, sizes, colors, and materials. The two types of yellow light and white light are the most common.
Eye-catching interior decoration
Depending on the size of the shop, there will be separate interior options. Large shops should choose large shelves and racks. For shops with a small area, the smartest choice is the shelves with storage compartments or the fixed shelves on the wall.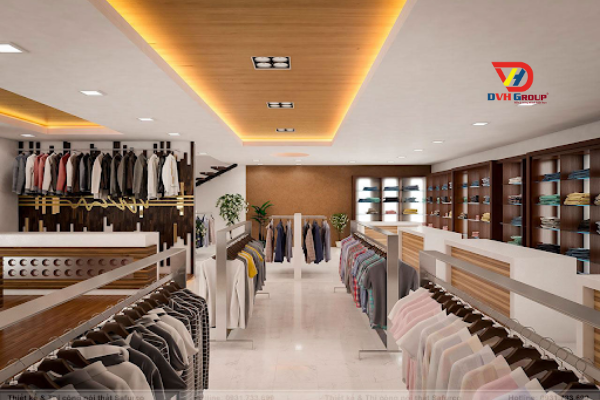 DVH Group – Prestigious quality interior construction unit
With many years of experience in the field of fashion shop design and construction, DVH Group always accompanies customers to create the most unique fashion design projects. Each fashion shop project is oriented by the architects in a unique style for each brand and each product.
Company DVH will bring to customers the most professional fashion shop design team. In addition, it is the work of the highest quality, the most beautiful aesthetics, the most suitable price. If you have a need to design a fashion shop, do not hesitate to come to DVH Group to enjoy our perfect service.
Contact Us
DVHGROUP CO., LTD
Address : 22 Nguyen Trung Ngan, Ben Nghe Ward, District 1, Ho Chi Minh City
Mobile : +84 975 969 608
WhatsApp : +84 975 969 608
Email: info@dvhgroupvn.com
Real estate consultant in Vietnam