You are not sure how to design the electrical system for your home? What should be paid attention to when designing electrical systems? Which construction unit is reputable and quality? Are you wondering these things? Scroll down and you will get the answer right away. The importance of electrical system design As we all know,…
Details content
You are not sure how to design the electrical system for your home? What should be paid attention to when designing electrical systems? Which construction unit is reputable and quality? Are you wondering these things? Scroll down and you will get the answer right away.
The importance of electrical system design
As we all know, electricity plays an extremely important role in daily life. That is why it is very necessary and important to design the building electrical system in a way that is reasonable and convenient
Is the current stable or not? How is the transmission? Depends greatly on the initial design process. A reasonable electricity network will help the system of generation, consumption, lighting, lightning protection,… All at the safest, most stable, and most convenient levels.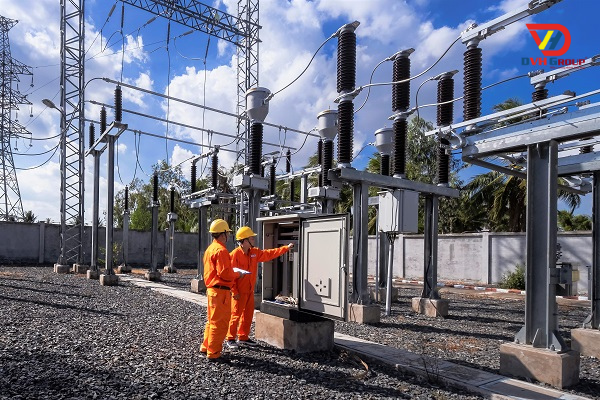 Moreover, when designing electrical systems, we can calculate the productivity and optimal features of the equipment. Helps control consumption as well as stable power generation.
Power system design consists of two main parts, which are electrical layout diagrams and power supply principle diagrams. The layout plan ensures aesthetics and convenience for the project. The schematic diagram ensures the operability, safety, strength, and weakness of the circuit.
If the design is sketchy without careful calculation, it will not only affect the entire electrical system, be inconvenient but sometimes even dangerous to use.
Minimum steps required when designing electrical systems
First, it is necessary to calculate the design of the lighting system. That is, how many light bulbs are there? What is the capacity of each bulb? From there, design and divide the current to be reasonable.
Next is the design calculation of the number, type, and size of wires leading to the socket. This is extremely important because the conductor that is overloaded and not suitable for the output power will lead to electric leakage, which is very dangerous.
Then we also need to calculate the design of the grounding system and lightning protection system. Because electricity is necessary, it is also very dangerous. If it's just a little omission, it's very dangerous.
The last step is to compile all materials, equipment,… The related costs incurred during construction. For more detail, it is necessary to make a complete drawing.
For the most convenient, effective, and safe design and construction, you should ask a reputable and quality design and construction unit. They will know how to do the most convenient for the project.

Necessary notes when designing electrical systems
For the sake of safety and utility, the design of the building and private electrical system must be very careful with the most meticulous calculations. Important notes when designing electrical systems:
Firstly, when designing the line, it is necessary to avoid the position of the wall where holes can be drilled and nailed. Because accidentally touching the power cord inside is very dangerous.
Note that when designing the power socket, it must be about 1.5m higher than the ground. This needs to be very attentive to minimize children touching the electrical outlet and also convenient for users, not having to bend down too much.
It is not recommended to design electrical sockets in bathrooms and toilets. Because this is an environment in contact with a lot of water, it is a very dangerous source of electricity. Moreover, minimizing waste of equipment because it is not necessary.
When making drawings, it is advisable to limit the intersection of electrical lines. Because this situation is easy to cause short, fire, affecting the whole upstream electrical system. When designing and installing, it is necessary to set aside protective and control devices for the whole building or house such as ports. electricity distribution and should be placed in a convenient place for easy use when there is an unexpected problem.
It is recommended to use a good quality power cord, firmly insulated to ensure safety when using.
These are very important notes to ensure the safest and most convenient electrical system. Save it for when you will use it.

DVH Group – Real estate unit for construction and system installation
The design of the electrical system of buildings, industries, … is very important, so it is necessary that a reputable and professional construction and installation unit. If you do not know which unit to choose, please refer to
DVH Group
. Won't let you down.
DVH Group
is a professional, reputable, quality design and construction unit of interior and exterior systems, chosen by many investors.
We are 100% committed to the quality of construction and installation works from highly qualified, professional engineers, technicians, and workers. Never had to let customers down. DVH Group – A unit created from quality and prestige.
Contact
DVH GROUP 
Address: 196/1/19-21 Cong Hoa, Ward 12, Tan Binh District, HCMC
Office: 22 Nguyen Trung Ngan, Ben Nghe Ward, District 1, HCMC
Email: info@dvhgroupvn.com
Hotline: +84 28 668 06166
Or leave information for a quick and free consultation!
Contact Us
DVHGROUP CO., LTD
Address : 22 Nguyen Trung Ngan, Ben Nghe Ward, District 1, Ho Chi Minh City
Mobile : +84 975 969 608
WhatsApp : +84 975 969 608
Email: info@dvhgroupvn.com
Real estate consultant in Vietnam