CONSTRUCTION OF MORDERN APARTMENT INTERIOR
Currently, apartment interior design is very popular in demand. Homeowners always want to choose an interior design with a personal impression for their apartment. Depending on the preferences and feng shui, each homeowner will choose for themselves different interior styles such as classical style, Indochine style, minimalism style. Most people often prefer modern apartment interior…
Details content
Currently, apartment interior design is very popular in demand. Homeowners always want to choose an interior design with a personal impression for their apartment. Depending on the preferences and feng shui, each homeowner will choose for themselves different interior styles such as classical style, Indochine style, minimalism style. Most people often prefer modern apartment interior design style.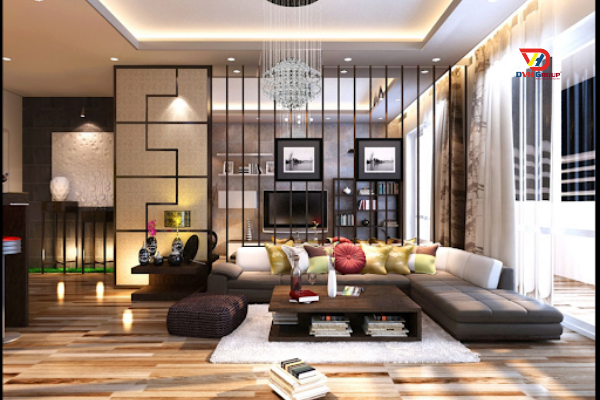 Features to note in modern apartment interior design
When designing modern apartment interiors, there must always be new and breakthrough ideas. Each house consists of many spaces with different designs. To meet that need, it is necessary to know how to integrate modern apartment interior construction designs suitable for living rooms, bedrooms, kitchens, …
Integrating functional space in a modern apartment
Most of the area of ​​the apartment is usually relatively narrow, so the integration of utilities in a living space including the living room, kitchen, or dining room is extremely important. helping to make the apartment space large, comfortable, cozy, and close. Besides, the use of multi-functional furniture to optimize usability is also a good solution to save living space.
Use smart furniture
DVH Group has constructed many projects. Here are some examples of modern furniture that integrates multiple functions
Wall-mounted dining table design: The dining table can be changed to the desired use, it can also be turned into a desk, a study table when needed. With only one table but many convenient uses

Multi-function beds: the upper bed is designed to lie down, below with many drawers that can store essentials. Or you can use folding beds to save space, convenient for moving, working…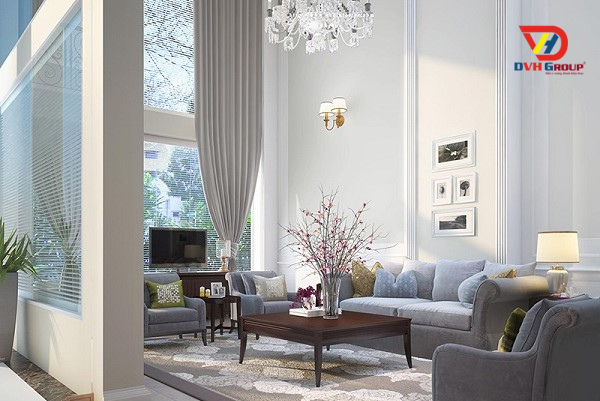 Special features in the space design of the rooms
Living room design
The interior design of the living room is always the most important thing for homeowners. The living room is not only a common living space for the whole family but also a place to receive guests. The furniture that almost every living room needs is a table and chairs. There are many types of table and chair products with different materials and prices.
However, for modern apartments, a neoclassical and modern sofa is a smart choice. It not only helps bring comfortable living space for the whole family but also shows the luxury of modern style.
Design kitchen space
For modern apartments, it is popular with the design of the dining table and the bar to make the home space spacious and friendly. Especially for apartments with small spaces, this design is extremely suitable.
The kitchen space is also more neatly arranged with kitchen cabinets including upper and lower cabinets. Kitchen utensils can be stored there, both clean and convenient. A top priority choice for a modern, youthful and energetic kitchen is the kitchen island. In order to bring a sense of luxury mixed with modern and classic style, some high-class apartments often use the neoclassical style for kitchen design.
The interior design of the apartment bedroom
The bedroom is a private living space, so it should be designed according to the preferences of each person from the main color to the necessary items. The indispensable items in each bedroom are the bed, wardrobe, shelf. In addition, depending on the requirements of each individual user, it is possible to arrange additional desks, televisions, dressing tables … and other items.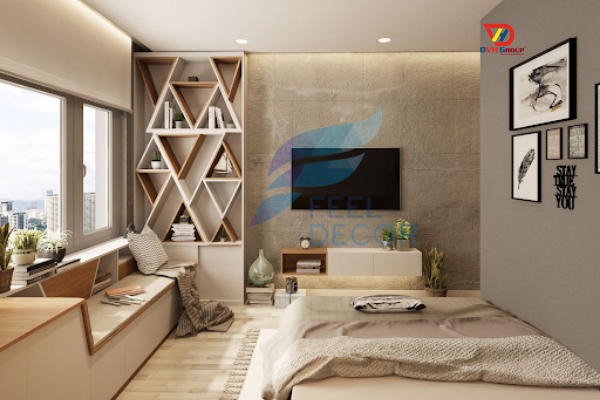 DVH Group- The leading unit in Vietnam in the field of interior design
In addition to the interior design of apartments, interior design of high-class apartments, DVH Group also designs interior construction of clinics, hotels, exhibitions, and showrooms, …. We are always proud because each interior design product of DVH Group is always a work of art with the most dedication and perfection, bearing the owner's style and own imprint of DVH. Our top criteria are:
Listening, understanding, and accompanying customers

Paying attention to the quality of design services

Quality assurance, construction progress on time

Using the materials with the most reasonable price and the best quality
Come to DHV GROUP, to experience the best quality construction design service in Vietnam.
Contact Us
DVHGROUP CO., LTD
Address : 22 Nguyen Trung Ngan, Ben Nghe Ward, District 1, Ho Chi Minh City
Mobile : +84 975 969 608
WhatsApp : +84 975 969 608
Email: info@dvhgroupvn.com
Real estate consultant in Vietnam