CLASSIC VILLA INTERIOR DESIGN
The current design styles are very diverse, rich and always bring distinct beauty. For large villas, choosing a design style is often quite difficult. Classic style is a style that has been around for a long time. Always bring nobility and luxury to living space. Therefore, many investors have chosen this style to design villa…
Details content
The current design styles are very diverse, rich and always bring distinct beauty. For large villas, choosing a design style is often quite difficult. Classic style is a style that has been around for a long time. Always bring nobility and luxury to living space. Therefore, many investors have chosen this style to design villa interiors. In the following article,
DVH Group
will help you learn more about the interior design of classic villas.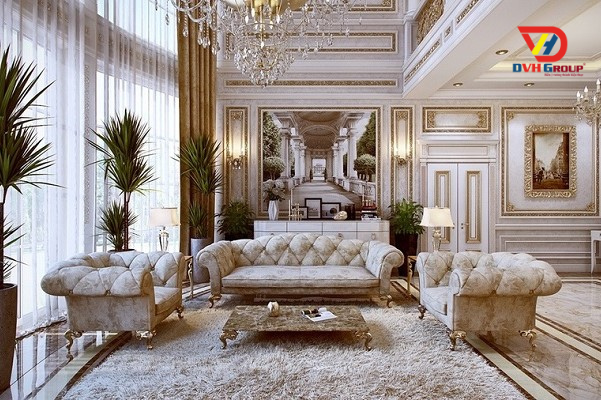 Features of classical interior design style
Color used
The main colors used in this style are white and yellow. Besides, colors such as deep colors, red black brown are also prominent colors of the style.
The harmonious combination of colors, along with detailed patterns. Giving the overall villa a feeling of nobility, class, and luxury.
Material, substance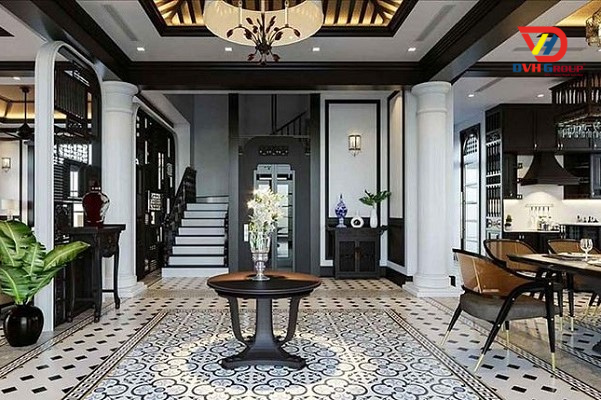 Wood is a typical material for the antique style. The more precious the wood, the more it affirms the status of the owner. In addition, homeowners often use gilded furniture, adding a classic glamor to the space.
Gypsum, precious stones such as marble. This is also the material used by investors for interior design. For the villa in the classic style. Because of the natural and luxurious features that the material brings. Besides, homeowners can decorate more crystal chandeliers, wine glasses. To increase the antique beauty of the villa.
Villa decoration
Different from the modern style, the classical style tends to be sophisticated, meticulous, and careful in each decorative detail pattern. Villas with this style often have moldings and moldings running along the floor walls. Combined with unique pattern details.
Spatial symmetry
Symmetry is the hallmark of the classic design style. Symmetry divides the space into two identical halves to form a unity for the villa.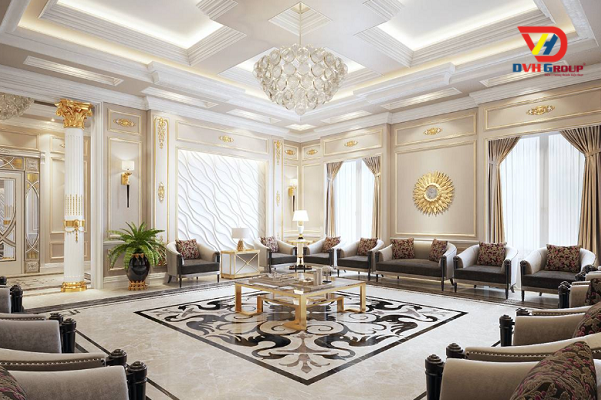 Luxury interior
The furniture selected in the classic villa is often of high value. The exterior design is very neat, sophisticated and has a pattern that matches the detailed pattern of the villa.
Classic villa interior design
Classic style is the perfect choice for villas. Especially villas with a medium and large area.
This style requires meticulousness in detailed line design. Until the selection of interior equipment.
Often the classic villas will emphasize a lot on luxurious, expensive interior equipment with expensive materials.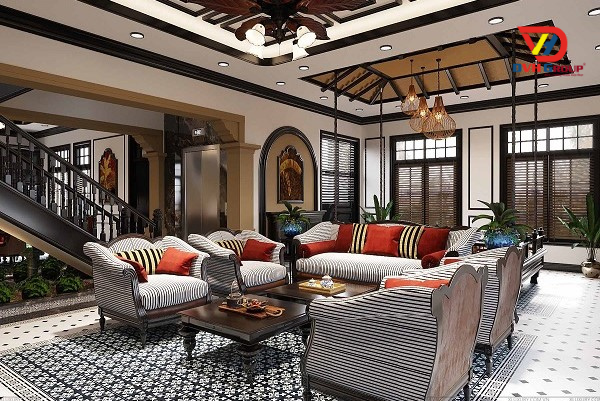 In addition, the choice of sofa for the living room is also very important. Because this is the "soul" of the living room and also the "soul" of the villa. A large sofa set with a sophisticated tea-table placed in the living room both brings a sense of classic elegance and is eye-catching.
Prestigious address
DVH Group is a leading construction design company in Vietnam. With a team of experienced consultants, always trying to learn and create constantly. We are committed to providing our customers with aesthetic, quality, luxurious, classy, and affordable works.
Contact Us
DVHGROUP CO., LTD
Address : 22 Nguyen Trung Ngan, Ben Nghe Ward, District 1, Ho Chi Minh City
Mobile : +84 975 969 608
WhatsApp : +84 975 969 608
Email: info@dvhgroupvn.com
Real estate consultant in Vietnam