BUILDING GARDEN TOWNHOUSES
In the middle of a busy city, life is full of worries and troubles. Work pressure makes you always tired and stressed. You want the home to have a space to relax. Release all the stress of a long day. Let DVH Group show your "sincerity" which is the garden townhouse model. This article will…
Details content
In the middle of a busy city, life is full of worries and troubles. Work pressure makes you always tired and stressed. You want the home to have a space to relax. Release all the stress of a long day. Let
DVH Group
show your "sincerity" which is the garden townhouse model. This article will show what are beautiful, modern designs.
Benefits of building a garden townhouse
Bring a relaxing space
In big cities, there is always a lot of traffic. The air is always stuffy and polluted. Therefore, you need a cool space, close to trees and nature to dispel sorrow. And having a garden right in your house is like an air purifier, eliminating unpleasant odors. There are trees in the yard, both preventing smoke and dust from outside, and creating a lot of oxygen and water vapor. Combined with the canopy, help reduce the temperature of your home.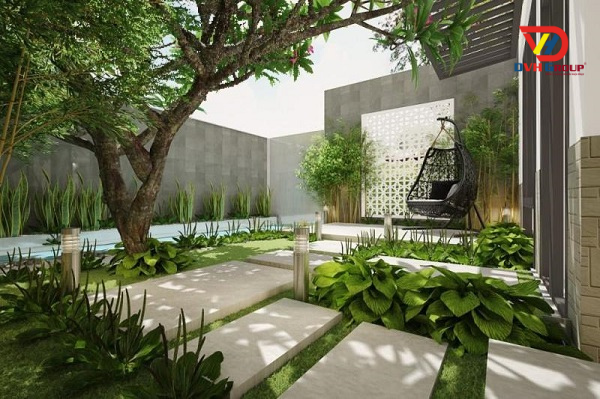 When you work, or simply walk around the garden. Breathing fresh air is enough to make you forget the fatigue of life out there. Many studies have also said that having more trees and gardens in your home will help you reduce stress significantly. So townhouse gives you a space to relax, fresh and very good for your health.
Improve morale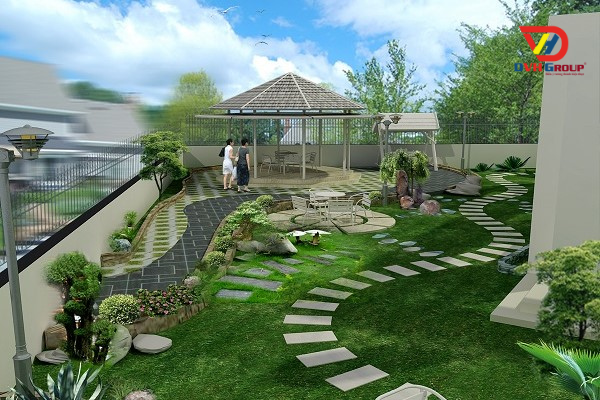 The garden helps with air conditioning. Bring fresh air to your home. Fresh, pleasant air will help your sleep improve, sleep better, deeper. And when you wake up from a good night's sleep. This fresh air gives you more energy to start your day.
Moreover, when you have free time, instead of surfing the phone, you can go to your garden to take care of, water, and prune. At the same time, the garden also provides a space for daily exercise, helping you improve your health.
Therefore, helping you to improve your sleep and health. Temporarily stay away from electronic devices, avoid wandering, negative thoughts and re-balance your life.
Bring back the aesthetics
Garden townhouses will often be designed to plant many trees and flowers and be decorated a little with miniatures combined with little lights. With the arrangement, the harmonious design will make space and your whole house change. Become more beautiful, closer to nature. After a long day of work, when you come home, you will immediately see a small and beautiful garden. That makes you like being washed away by the dust outside.

Overcoming space limitations
Many homeowners worry about not having enough space to build a garden. But who knows, thanks to the addition of a garden will make your house look more spacious and airy. For townhouses, the land area is narrow. Building houses will often make good use of this land area.
However, the dead corners of the edges are also unavoidable. Inevitably, there will be locations with too much sunlight. And having more gardens, helps you overcome these problems. The garden is not restricted, or stereotyped in terms of design. Therefore, you can plant more trees and flowers around your house. Just helps you cleverly hide the dead corners. Just reduce the direct sunlight shining into your home.

DVH Group – Design/construction unit
Thus, garden townhouses are now a trend chosen by many families to build their homes. Garden townhouses not only bring a fresh, airy, close to nature atmosphere but also help your house space not be cramped, increasing the naturalness.
Above, DVH Group has pointed out the advantages of garden townhouses and if you are interested in building a garden for your living space, please contact DVH Group immediately to receive the best advice on building a garden. garden construction.
Contact
DVH GROUP 
Address: 196/1/19-21 Cong Hoa, Ward 12, Tan Binh District, HCMC
Office: 22 Nguyen Trung Ngan, Ben Nghe Ward, District 1, HCMC
Email: info@dvhgroupvn.com
Hotline: +84 28 668 06166
Or leave information for a quick and free consultation!
Contact Us
DVHGROUP CO., LTD
Address : 22 Nguyen Trung Ngan, Ben Nghe Ward, District 1, Ho Chi Minh City
Mobile : +84 975 969 608
WhatsApp : +84 975 969 608
Email: info@dvhgroupvn.com
Real estate consultant in Vietnam