BEAUTIFUL SPA INTERIOR DESIGN
Along with the development of society, the demand for health care and beauty of people also increases. People choose to go to spas to restore their health, relax and take care of their beauty. Therefore, on the market today, there are many different spa models with many different spa interior design styles. The following article…
Details content
Along with the development of society, the demand for health care and beauty of people also increases. People choose to go to spas to restore their health, relax and take care of their beauty.
Therefore, on the market today, there are many different spa models with many different spa interior design styles. The following article DVH Group will help you learn the beautiful spa interior design of some spa business models on the market today.
Beautiful spa interior design in Day Spa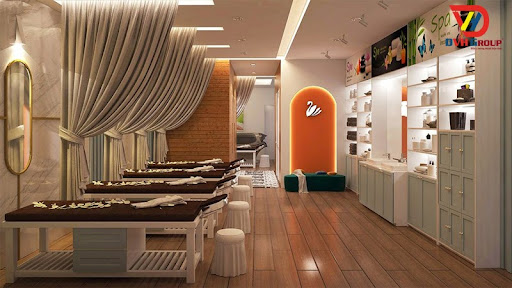 Beautiful spa interior design
Day Spa is a professional care service with many services such as massage, facial care, body care, sauna,… With so many services, this spa interior design needs to be focused on. allocate space so that it is reasonable, appropriate, and has its own space for each service. For each space, you should choose the right furniture and decorations for the service to create a relaxing space to give customers the most complete experience.
Beautiful spa interior design in Medical Spa (Therapeutic Spa
)
This is a spa model that requires a medical license, qualified and experienced staff. To get the best service experience for customers, this spa treatment often uses modern technology machines and equipment. This requires that when designing the interior of the spa, you need to focus on colors and light to bring a sense of relaxation.
The interior design of the spa treatment needs to combine harmoniously from the position of the bed, machinery, and equipment to light and scent to give customers a pleasant feeling, comfortable enjoying the spa's services. friend.
Beautiful spa interior design in the spa resort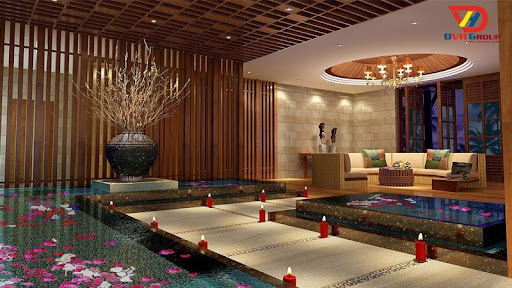 Beautiful spa interior design for spa resort
Resort Spa is a form of spa complex in resorts to provide tourists with better services. Therefore, Resort Spa is often equipped with many modern machines and equipment.
In designing a beautiful spa interior, you need to know how to combine the spaces in the spa harmoniously, choose the quality of furniture that best suits the type of spa service you provide. Moreover, you should decorate the spa interior space close to nature, giving customers a quiet space, helping customers to rest and relax.
Note when designing beautiful spa interior
Besides the quality of spa services, customers are also very interested in the spa's interior space. A beautiful spa interior, scientifically laid out and convenient for the eyes, will help customers have a better impression and enjoy the best service. Therefore, when designing a beautiful spa interior, you should pay attention to a few points:
Choose the bed with the most suitable stimulation for your target audience.

Design and logically allocate space from reception to service, changing area, and payment.

Know how to use decorative objects to create accents for the interior space.
Beautiful spa interior design gives the first impression to customers and greatly influences the decision to return to your spa or not. Therefore, spa owners need to invest in beautiful spa interior design to increase your spa's image and brand.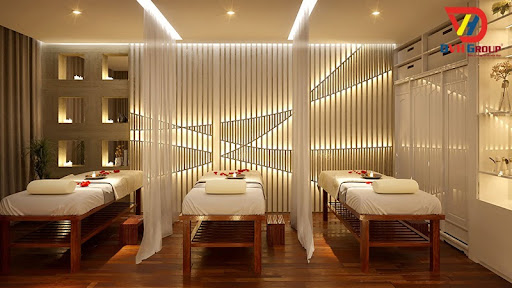 Note when designing beautiful spa interior
DVH Group – Choosing a beautiful spa interior design unit
Choosing a reputable spa interior design partner directly affects the success or failure of your spa business. You need to carefully research the beautiful interior design units on the market to avoid encountering reputable design units.
Coming to DVH Group will help you come up with ideas, design drawings according to your wishes, target customers and create a unique attraction that is different from competitors in the same segment. DVH Group ensures to execute the design according to the drawings, on schedule, and within your budget. DVH Group is confident to bring its partners the best quality to help you make your business more successful.
Contact Us
DVHGROUP CO., LTD
Address : 22 Nguyen Trung Ngan, Ben Nghe Ward, District 1, Ho Chi Minh City
Mobile : +84 975 969 608
WhatsApp : +84 975 969 608
Email: info@dvhgroupvn.com
Real estate consultant in Vietnam